Applications & Informational Handouts
Building Safety Division
The City of Carmel-by-the-Sea has created a consolidated application form for all permits issued under the authority of Carmel Municipal Code, Title 15. Applicants complete the form, marking the appropriate type of work proposed at the top. For one- and two-family residential projects where complete plumbing, electrical, and mechanical plans are submitted at the time of application, the applicant may request multiple permits on the same application. When a project involves commercial construction, or when construction documents for single-trade permits have been deferred to allow for bidder designed systems, a permit application and complete construction document submittal is required for each permit.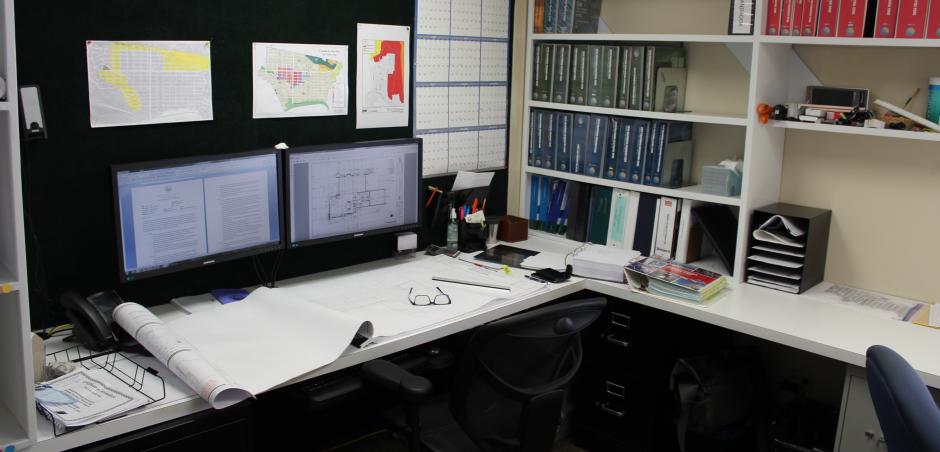 Separate permits required for each independent structure
When a proposed project involves the construction or modification of multiple structures on a single parcel, each independent building is required to have its own permit. (e.g. construction of a single-family residence and detached garage). This allows applicants the flexibility to obtain a Certificate of Occupancy for one structure while the other is still under completion; and improves the Building Division's project management and record keeping efforts.
Application Forms
Complete permit application packets consist of a combination of application forms and supplemental forms required to document compliance with City and State requirements. Application forms available under this tab include a general Title 15 permit application form used for applying for any building, plumbing, mechanical or electrical permit required by the City. A separate Fire System Construction Permit application is provided for fire sprinkler, alarm, commercial cooking and alternative extinguishing system permits. A Fire Code Operational Permit form is also provided.
Forms are also provided for declaring Scope of Work for projects exempt from permits, as well as for applying for Temporary Certificates of Occupancy and Encroachments onto public property and rights-of-way. Supplemental application documents are provided under a separate tab.
Building Permit Application
Building Permit Revision Form
Fire System Permit Application
Scope of Work Application
Building Permit Guidance Form
Permanent Encroachment Application
Temporary Encroachment Application
Driveway Replacement Permit
Standard Operating Guidance Documents (SOG)
Standard Operating Guidelines (SOG's) are developed by the Building Safety Division to provide consistent guidance for our staff and customers relative to specific Code requirements and interpretations of the building official. Some SOG's, like SOG 17-07 Private Stormwater Drainage Systems provide drawings that may be used by designers or applicants in preparing project plans. SOG's are updated periodically to maintain code compliance and new SOG's are developed periodically to address new code requirements or to answer recurring questions.
SOG 17-01 Certificate of Occupancy
SOG 17-02 Business License Inspections
SOG 17-03 Designer ID Requirements on Submittals
SOG 17-04 Building Permit Complete Submittal Requirements Checklist
SOG 17-04 Building Permit Complete Submittal Requirements Matrix
SOG 17-05 Residential Fire Sprinkler Retrofit
SOG 17-06 Temporary Certificates of Occupancy
SOG 17-07 Private Stormwater Drainage Systems
SOG 17-08 Surveyor Certification of Location and Height
SOG 17-09 Plan Requirements for Multiple Revisions
SOG 17-10 Consolidated Plan Review Letters
SOG 17-11 Determining Residential Fire Sprinkler Retrofit Requirements
SOG 17-12 Non-potable Rainwater Harvesting Systems
SOG 17-13 Permits by Appointment
SOG 17-14 Prescriptive Residential Decks, Stairs, and Railings
SOG 17-15 Reporting CA OSHA Violations
SOG 17-16 Deferred Submittals
SOG 17-17 Stop Work Orders
SOG 17-18 Retaining Wall Permit Requirements
SOG 18-01 HVAC Appliances in Attics and Crawl Spaces
SOG 18-02 Fire Resistive Construction
SOG 18-03 Alternative Materials, Design, and Methods of Construction
SOG 18-04 Exterior Wildfire Exposure Protection
SOG 18-05 Permit Valuations and Fees
SOG 18-06 Fire Code Operational Permits
SOG 18-08 Pool and Spa Barriers
SOG 18-09 Emergency Work Permit Requirements
SOG 18-10 Submittal Requirements for Solar PV Systems 10kW or Less in One to Two Family Dwellings
SOG 18-11 Coordination of Design Questions
SOG 18-13 Permit Applications - Electronic Media
SOG 18-15 Skylight Addition Revisions
SOG 19-02 Generators
SOG 19-03 Public Access to Active Permit Documents
SOG 19-04 Phased Demolition Permits
SOG 19-05 Unit Designators in Multi-tenant Buildings
SOG 19-07 Business License Pre-approval Inspections
SOG 19-08 CAWD Sewer Lateral Inspections
SOG 19-09 Permit Expiration
SOG 19-10 Special Inspection Agency Approval
SOG 19-11 Code citations on plans and code access
SOG 19-12 Designer Requirements for Permit Applications (supercedes SOG 17-03)
SOG 19-13 Electrical Permits - Low Voltage Lighting and Irrigation Control Systems
SOG 20-01 Permit Declarations Acknowledgement Requirements
Supplemental Application Documents
Supplemental application documents include forms that provide additional project information necessary for documenting code compliance and assist customers during the construction process. Not every form is applicable to every project though some, like the Construction & Demolition Debris Management/Recycling Plan and Smoke Detector/CO affidavit are widely applicable.
Application for Alternative Materials, Design, and Methods of Construction
BMP Implementation Tracking Form
Concurrent Review Agreement
Construction & Demolition Plan
Deferred Submittal Agreement
Phased Construction Agreement
Revision/Correction Submittal Form
Smoke Detector/CO Affidavit
Statement of Special Inspections
Statement of Special Inspections - Approved Agencies
Temporary Certificate of Occupancy
Temporary Variance of Work Hours Request
Permit Extension Application
Job Aids
Job aids are developed by the Building Safety Division to provide graphic details of code requirements or written resources to assist in permit applications. Some job aids provide drawings that may be used by designers or applicants to assist in providing code-compliant designs.
JA 01 - Residential Emergency Escape and Rescue Openings
JA 02 - Window Wells
JA 03 - Basic Stairs
JA 04 - Accessible Ramps and Landings
JA 05 - Residential Kitchen Remodel Guide
JA 06 - Residential Bathroom Remodel Guide
JA 07 - Electrical Grounding Requirements
JA 08 - Underground Electrical Cable Bury Depths
JA 09 - Access to Exits and Exit Separation Distance
JA 10 - Electrical Panel Calculations
JA 11 - Inspection Gude for Small Solar PV Systems
JA 12 - Solar PV Standard Plan - central String Inverter Systems
JA 13 - Solar PV Standard Plan - Microinverter and ACM Systems for One and Two Family Dwellings
JA 14 - Structural Criteria for Residential Flush-mounted Solar Array's
JA 15 - Standard Plan Notes
JA 16 - Structural Key Plans
BMP Sheet
Traffic Control Plan Guidelines