Elections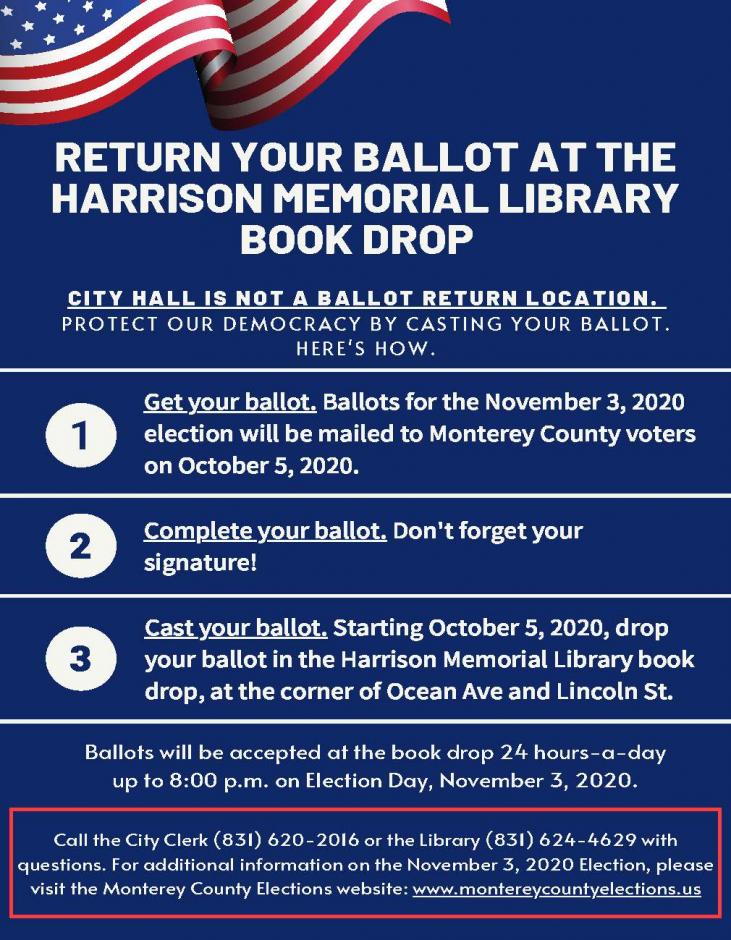 On November 3, 2020 the City of Carmel-by-the-Sea will hold a General Municipal Election. The purpose of this election will be to vote for two (2) seats on the Carmel-by-the-Sea City Council, each for a full four-year term (2020-2024), and one Mayor, for a full two-year term (2020-2022).
Nomination papers for the office of Mayor and for the office of member of the City Council will be available by appointment starting Monday, July 13, 2020.
Due to the local state of emergency, City Hall is closed to the public. Candidates must make an appointment with the City Clerk, Britt Avrit prior to picking up papers to run for office. Please contact Britt at (831)620-2016 or cityclerk@ci.carmel.ca.us to schedule an appointment.
Only the candidate and one additional person will be permitted at the appointment and wearing a mask will be required of everyone during the appointment.
To be eligible to run for these offices, a candidate must be:
18 years old
A resident of Carmel-by-the-Sea
A citizen of the United States
Registered to vote in the City of Carmel-by-the-Sea
Nomination papers must be filed with the City Clerk in person no later than 5:00 p.m. on Friday, August 7, 2020.
Additional information regarding the November 3, 2020 Election can be found on the Monterey County Elections webpage.
Carmel-by-the-Sea 11-3-2020 Notice of Election
Carmel-by-the-Sea Resolution 2020-033 Calling November 3 2020 Election
Past Election Results
March 3, 2020 Election Results
2018 General Municipal Election Results
2016 General Municipal Election - Final Election Results
2014 General Municipal Election Certification
2012 General Municipal Election Certification
2012 General Municipal Election Certification - Measure D
2010 General Municipal Election Certification
2009 General Municipal Election Certification - Measure T
2008 General Municipal Election Certification
2006 General Municipal Election Certification