Sisters in Art: Esther, Helen and Margaret Bruton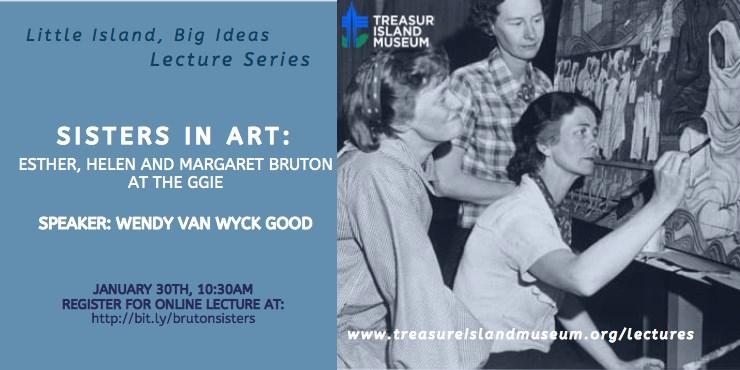 Join the Treasure Island Museum on Saturday, January 30 at 10:30am to learn about the Bruton sisters, famous California artists of the 1920s and 30s, who were active in the Monterey Peninsula.
Register for this free program here.
Margaret, Esther, and Helen Bruton were at the height of their careers when Timothy Pflueger selected them to create a mural for the Court of Pacifica at the Golden Gate International Exposition.
Their 8,000 square foot Peacemakers mural was the largest work of art at the fair, and of all the accomplished artists who participated, the sisters earned the largest commission.
In the second year of the fair, Helen Bruton was in charge of the wildly successful "Art in Action" program. This talk provides a brief overview of the sisters' fascinating lives and careers with a focus on their important contributions to the GGIE.​
Speaker: Wendy Van Wyck Good is a librarian and archivist at Monterey Peninsula College, and past librarian at Carmel Public Library. Her book about the Bruton sisters will be published by West Margin Press in fall 2021.