Library of Congress National Book Festival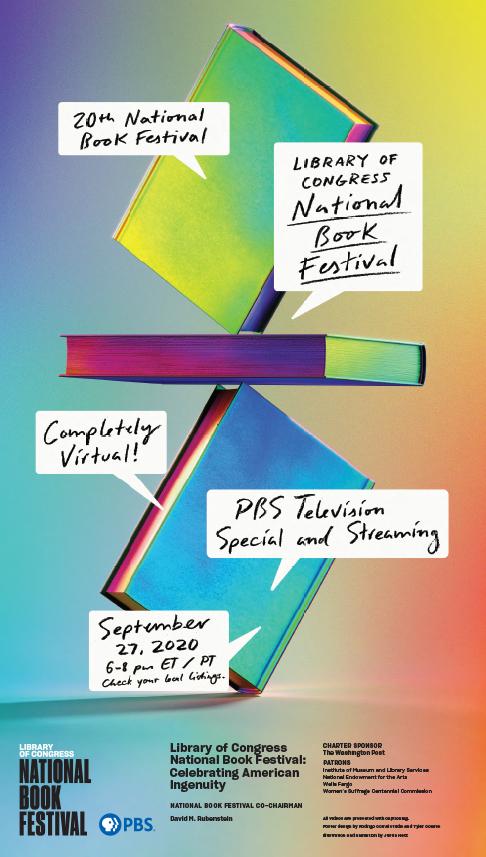 The 2020 Library of Congress National Book Festival will connect with audiences across the country for a free, interactive, online celebration of "American Ingenuity" for the festival's 20th year, featuring new books by more than 120 of the nation's most-renowned writers, poets and artists. The festival will also showcase the many ways our national library embraces all subjects in its unparalleled collection.
During the weekend of Sept. 25-27, virtual stages at loc.gov/bookfest will offer on-demand videos, live author chats and discussions, and options to personalize your own journey through the festival with particular themes.
Check out the festival website for more info and a full lineup.
Highlights of the 20th National Book Festival: Celebrating American Ingenuity
Two-time Pulitzer Prize winner Colson Whitehead will receive the Library's Prize for American Fiction and discuss his lifelong career in writing.
Former Secretary of State Madeleine Albright on her memoir, "Hell and Other Destinations."
National Ambassador for Young People's Literature Jason Reynolds on his book "Stamped: Racism, Antiracism, and You," which he co-wrote with Ibram X. Kendi.
"Today" show co-host Jenna Bush Hager on "Everything Beautiful in Its Time," a collection of stories about her grandparents, Barbara and George H.W. Bush, and her book club "Read With Jenna."
Chelsea Clinton on her new book for young readers, "She Persisted in Sports: American Olympians Who Changed the Game."
John Grisham, master of the legal thriller, on his latest books, "Camino Winds" and "The Guardians."
Melinda Gates on her new book, "The Moment of Lift: How Empowering Women Changes the World."
Mo Willems, creator of "The Pigeon" books, "Because" and other bestsellers for children, on his work and creative process.
Parker Curry and her mother, Jessica Curry, on their book, "Parker Looks Up: An Extraordinary Moment," recounting a visit to the Smithsonian's National Portrait Gallery and viewing a portrait of first lady Michelle Obama.
Dan Brown, author of "The Da Vinci Code," makes his children's book debut with "Wild Symphony."
Ibram X. Kendi and Saeed Jones on ways to confront racism and bigotry, as described in Kendi's book "How to Be an Antiracist" and Jones' memoir, "How We Fight for Our Lives."
Rebecca Boggs Roberts and Lucinda Robb on their new book, "The Suffragist Playbook."
Veronica Chambers on her children's book "Finish the Fight!: The Brave, Unruly, and Radical Women Who Fought for the Right to Vote."
Thomas Frank and Christopher Caldwell on "The Road to Populism" and their related books.