Humanities in Los Angeles Speaker Series: Linda Margarita Greenberg, People of Papers and Maps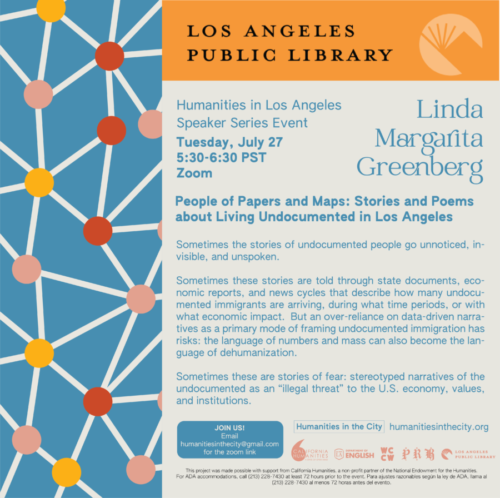 Join us for a public lecture and conversation with Linda Margarita Greenberg titled People of Papers and Maps: Stories and Poems about Living Undocumented in Los Angeles.
Sometimes the stories of undocumented people go unnoticed, invisible, and unspoken. Sometimes these stories are told through state documents, economic reports, and news cycles that describe how many undocumented immigrants are arriving, during what time periods, or with what economic impact. But an over-reliance on data-driven narratives as a primary mode of framing undocumented immigration has risks: the language of numbers and mass can also become the language of dehumanization. Sometimes these are stories of fear: stereotyped narratives of the undocumented as an "illegal threat" to the U.S. economy, values, and institutions. Working against invisibility, dehumanization, and stereotyping, fiction writers and poets have been offering different stories of undocumented immigrants in Los Angeles.
Email humanitiesinthecity@gmail.com to register for this free online program.
Hosted by Humanities in the City and Los Angeles Public Library.