Spooky Season is almost here!
Get ready for the Pumpkin Roll, Howloween for our doggie friends, and the City Halloween parade.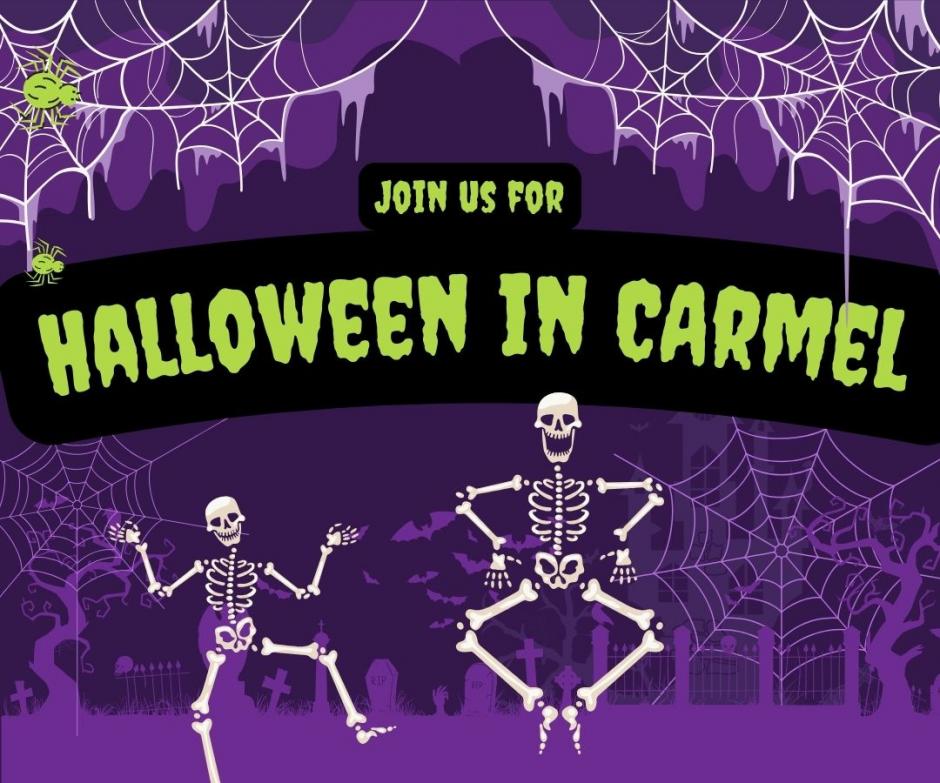 Darkness falls across the land. The midnight hour is close at hand. Do you have the soul for getting down (and having fun)?
Learn more about the street closures for the Pumpkin Roll and Halloween Parade below.
Halloween 3rd Thursday in the Park, October 19, 4:00 – 7:00 pm
Come to Devendorf Park for some Halloween themed fun, music, games, food, and drinks (there will be wine and beer)! Costumes welcome and encouraged :) This event is organized by Good Roots, Inc. who manage the weekly Carmel-by-the-Sea Farmers' Market.
This will be the last 3rd Thursday until they start up again next April.
8th Annual Pumpkin Roll – Saturday, October 28, 11:00 am – 1:00 pm
Join us for one of Carmel's longest standing traditions – no need anymore to steal pumpkins to roll down Ocean Avenue under the cover of darkness! We provide the pumpkins, you bring your friends and family. Find out what size pumpkin rolls best in the bright light of day where the zombies can't get you.
Pick up a pumpkin on Ocean Avenue at Santa Fe Street and roll it down the hill to watch it smash.
FREE and open to everyone (except zombies – too scary)!
Please be aware that Ocean Avenue between Carpenter Street and Junipero Avenue will be closed to all traffic from 8:00 am – 4:00 pm.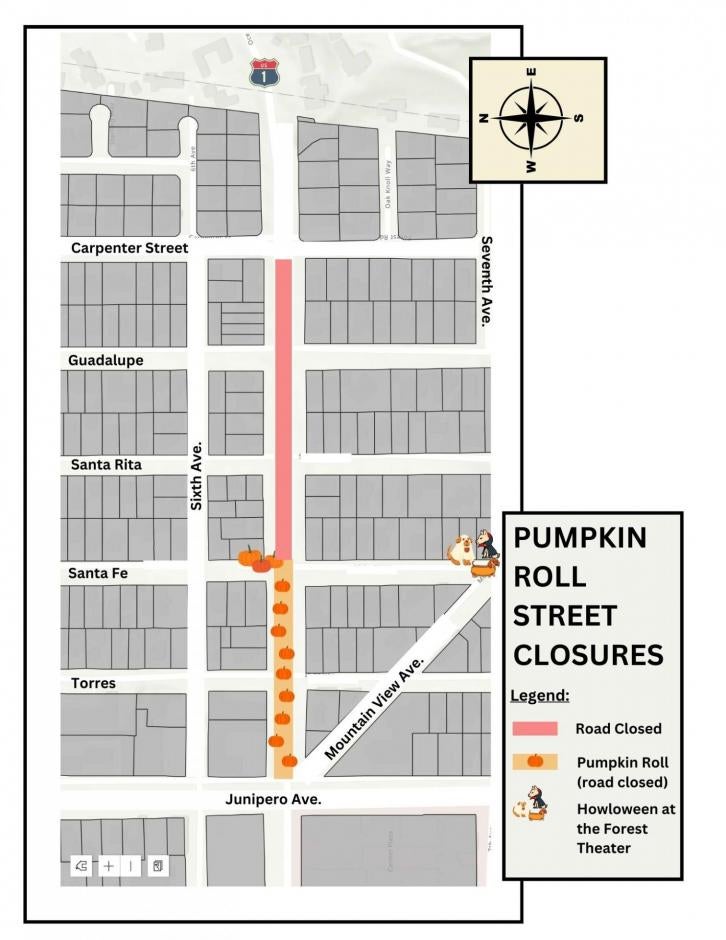 Howloween Dog Photos & Costume Contest – Saturday, October 28, 10:00 – 11:00 am
This year Max's Helping Paws Howl-o-Ween will be held at the outdoor Forest Theater in Carmel-by-the-Sea! Snacks, Vendors, live music, entertainment and more! Bring a picnic and come enjoy the show.
Featuring:
Red carpet runway for pet/owner costume contest participants
Panel of Dog-Loving Judges
Large Stage with nonslip ramp for pets of all ages
Spacious setting with seating for everyone, including grass area for pets.
FREE event to attend (pets not required to be attendee).
Contest
Enter the contest for one of several WONDERFUL prizes, or just enjoy observing all the incredible costumes! Professional photo opportunity of your pup, by none other than local photographer Liz Stavrinides, owner of LoveDog & Co, author of Miracle Dogs and Extraordinary Dogs.
When you check in, you will choose your desired category to enter! Winner in each category will be entered into Best of SHOW Howloween Grand Prize, winner chosen by the audience!
Entrance Categories
Scariest Costume
Most Adorable
Most Creative
Best Handmade
Schedule
10:00 – 12:00 PM Dog Photos with Love Dog & Co
12:00 PM Costume Contest and Prizes
City Halloween Parade – Tuesday, October 31, 4:30 pm
Fun fact: Halloween is the City of Carmel's birthday – can you believe that!? We are practically Halloween Town. No wonder there is so much spooky fun here in October! Don your best cloak, brush your fangs, and hop on your broom to join us in celebrating Halloween and the City's birthday.
The parade will stage on Mission Street and Sixth Avenue (Farmers' Market footprint) head south on Junipero Street before making a right onto Ocean Avenue and heading down to Monte Verde Street where it will loop back up Ocean Avenue.
Watching the Parade and Street Closures
Best places to watch the parade and cheer on all of the participants is anywhere along Ocean Avenue, especially Devendorf Park.
Ocean Avenue will be closed for the duration of the parade from 4:30 p.m. to approximately 4:45 p.m. There will be no cross traffic across Ocean Avenue from Junipero to Monte Verde Streets starting at 4:15 p.m.
If you are parked on Ocean Avenue or the side streets between Ocean Avenue and Sixth or Seventh Avenues, you will be a captive audience for a very fun parade until we get the streets open again, so get ready to cheer on the home team. As soon, as the parade concludes, which should be fairly quickly, we will be opening streets back up as soon as possible!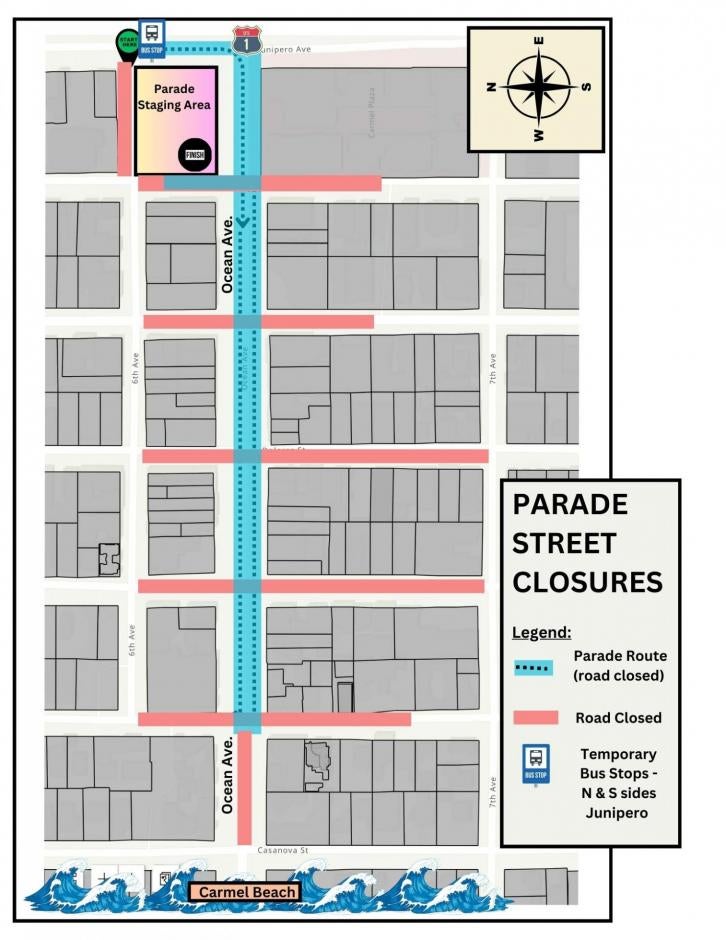 After the Parade
There will be Trick-or-Treating fun in the Park and downtown!
No mere mortal can resist the fun of Halloween in Carmel!