Sign up for emergency updates – Text your zip code to 888-777
2023 Pineapple Express - Storm updates, PG&E info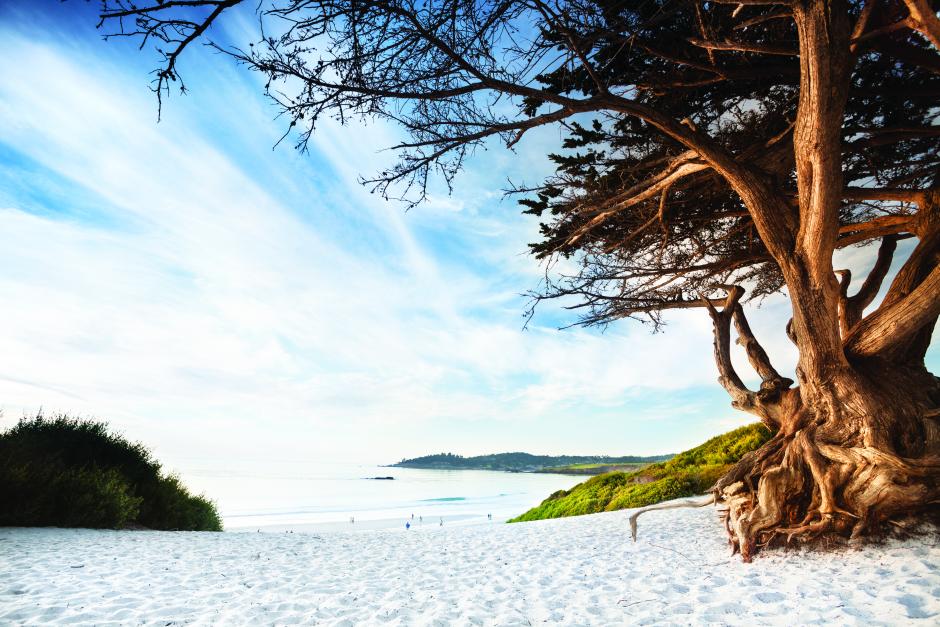 3/22/2023 11:00 AM – Flood Advisory for Monterey County until 2:15 PM
From 11:03am PDT, Mar 22 2023 until 02:15pm PDT, Mar 22 2023
* WHAT…Urban and small stream flooding caused by excessive rainfall continues.
* WHERE…Portions of central California and northern California, including the following counties, in central California, Monterey and San Benito. In northern California, Santa Clara and Santa Cruz.
* WHEN…Until 215 PM PDT.
* IMPACTS…Minor flooding in low-lying and poor drainage areas. Ponding of water in urban or other areas is occurring or is imminent.
* ADDITIONAL DETAILS… – At 1103 AM PDT, Doppler radar indicated heavy rain. This will cause urban and small stream flooding. Between 0.1 and 0.3 inches of rain have fallen. – Additional rainfall amounts of 0.1 to 0.3 inches are expected over the area. This additional rain will result in minor flooding. – Some locations that will experience flooding include… Salinas, Gilroy, Seaside, Monterey, Marina, Pacific Grove, Carmel-By-The-Sea, Castroville, Boronda, Moss Landing, Prunedale, Del Monte Forest, Del Rey Oaks, Sand City, Elkhorn, Las Lomas and Aromas. - http://www.weather.gov/safety/flood
PRECAUTIONARY/PREPAREDNESS ACTIONS…
Turn around, don't drown when encountering flooded roads. Most flood deaths occur in vehicles.
Be aware of your surroundings and do not drive on flooded roads.
3/21/2023 – The National Weather Service has issued a high wind advisory until 9:00 P.M.
HIGH WIND WARNING REMAINS IN EFFECT UNTIL 9 PM PDT THIS EVENING. News Alert: South winds 30 to 40 mph with gusts up to 70 mph expected. Local gusts up to 85 mph over the highest peaks. Very strong and gusty winds could blow around unsecured objects. Trees and tree limbs could be blown down and result in damage to nearby structures, power outages and blocked roads. Saturated soils can make it easier for trees to fall.
For the latest weather info, click HERE.
Compensation for Extended Outages - SEE IF YOU ARE ELIGIBLE - If you are a residential PG&E customer and have gone without power for at least 48 hours due to severe storm conditions, you may qualify for a payment under PG&E's Safety Net Program. This program provides for the automatic payment of $25-$100, which is paid about 60 days following the storm outage. In some cases, processing may take 90-120 days (heavy storm season).
3/14/2023 9:00 PM – The warming center and charging station at the Carmel Youth Center will be open between 8:00 AM and 1:00 PM on March 15th, 2023 for Carmel residents (Carmel Youth Center at SW Torres/4th).
3/14/2023 9:00 AM - Latest National Weather Service Forecast
The next in this series of storms began Monday night, March 13, 2023, with expected rain and gusty winds that could reach 50 miles per hour according to the National Weather Service. The most impactful period for the Carmel-by-the-Sea community will last into Wednesday, March 15. With soils already heavily saturated, this next storm system could continue to bring down trees and power lines, resulting in the disruption of electricity and mobile communications service.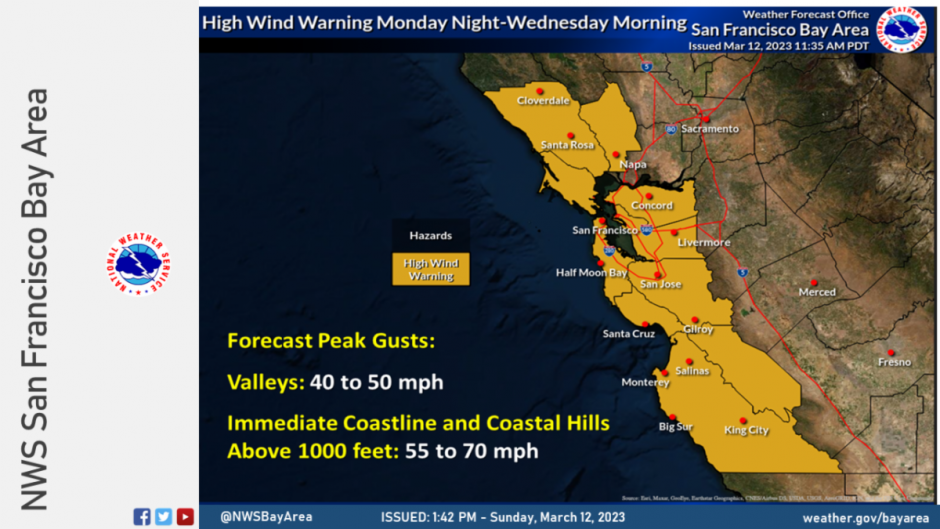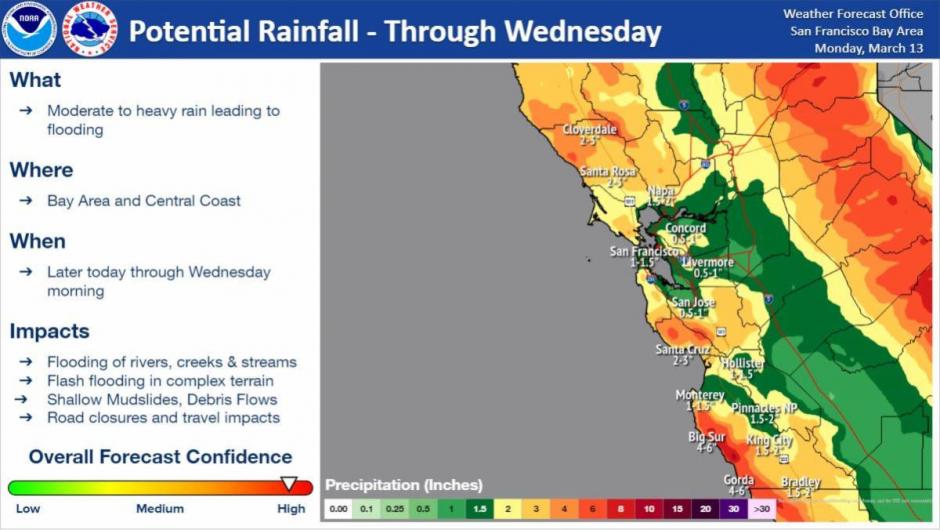 How to Prepare for this Next Storm
Be alert to your surroundings and aware of potential danger from falling trees or power lines. If you lose power, please stay home if you can. If you need to drive on the roads, use extreme caution. Treat dark signal lights as a four-way stop. Never get near downed power lines.
Use the resources provided at https://ci.carmel.ca.us, through local news stations, and County resources to stay abreast of the latest situation, including road closures and evacuations.
Call 9-1-1 in emergencies, or the Police non-emergency number at (831) 624-6403 if you need non-emergency assistance. You can also call United Way Monterey County at 2-1-1 for assistance to find out how you get help. PG&E's Outage Map is the best resource to monitor power restoration status.
PG&E has confirmed that more than two dozen crews are in the area to address issues and maintain infrastructure. Please understand, if downed trees bring down power lines, City tree crews will respond quickly, but they must wait to move the downed tree until PG&E responds and gives them the okay to do so. This means that if a tree impacts a roadway, that street will remain closed until that process is complete.
Please do what you can to check-in on and help a neighbor or two.
3/13/2023 1:42 PM – Carmel Youth Center closed. Harrison Memorial (Ocean & Lincoln) and Park Branch (Mission & 6th) Libraries open – power is on and you can charge your devices, but there is no internet/wifi.
3/12/2023 9:51 AM – Carmel Youth Center warming shelter and charging station is open today from 8 AM to 6 PM. Bring your own charger. PG&E Crews are working on site in Carmel and estimate that power will be restored at 10 PM tonight.
3/10/23 10:00 AM – Warming shelter and charging station is open, 9:30am-5pm. Carmel Youth Center, Torres St &, 4th Ave, Carmel-By-The-Sea.
Evacuation Order Effective Immediately for areas of Carmel Valley – Updated 3/10/23 at 9:21 AM. Click HERE for more info.
The Monterey County Sheriff's Office has issued an Evacuation Order for areas of Carmel Valley to go into effect immediately and until further notice.
If you are in the Evacuation Order Zone quickly and calmly evacuate. If it is safe to do so, check with your neighbors to ensure they have been made aware of this alert.
If you need animal sheltering, call the SPCA at 831-373-2631. After hours line: 831-646-5534.
Monitor local media, social media, and Nixle alerts for updates. Call 2-1-1 for information. Call 9-1-1 only if you have a life-threatening emergency.
Other Weather Updates:
PG&E Outages:
PG&E is experiencing numerous power outages due to the storm throughout the Monterey Peninsula area, impacting a total of approximately 13,000 customers. Crews are in the area working to make safe and restore in as safe a manner as possible.
For updates on outages in your neighborhood:
Evacuation Warning for areas of Carmel – Updated 3/9/23 at 12:55 PM
The Monterey County Sheriff's Office has issued an Evacuation Warning for areas of the Carmel River Lagoon to go into effect immediately Thursday, 3/9/2023 until further notice due to the incoming storm. If you have large animals or need extra time to evacuate, now is the time to do so.
Overview - A persistent storm system lingering off the northwest Pacific coast will better organize Thursday as upper-level energy approaches and moisture tapped deep from the Pacific streams in bringing yet another Atmospheric River event to the West Coast in what has already been an active season. Moderate Risks (level 3/4) of Excessive Rainfall are in effect on Thursday and Friday over central coastal California and the central interior valleys, particularly in favorable upslope regions along the terrain of the coastal ranges and the Sierra, where several inches of rain are expected. In addition, rainfall at higher-elevations may contribute to rapid snowmelt, which may further exacerbate the potential for scattered to numerous flooding instances downstream. For more information, visit the Monterey County Emergency Services page HERE.
Weather Alerts
The National Weather Service has issued flood watches and warnings for Monterey County. Remember a Watch means flooding may occur, while a Warning means flooding is occurring or is imminent. For current National Weather Service Alerts check HERE.
Emergency Alerts
Register to receive emergency alerts from Alert Monterey County. Text you zip code to 888-777 or sign up online at www.alertmontereycounty.org
To view all emergency alerts visit the Alert Monterey County Notification Portal
Note: After the emergency has passed, the same system that was used to send an evacuation order will send a notification when an order has been lifted
Information