Earth Day 2023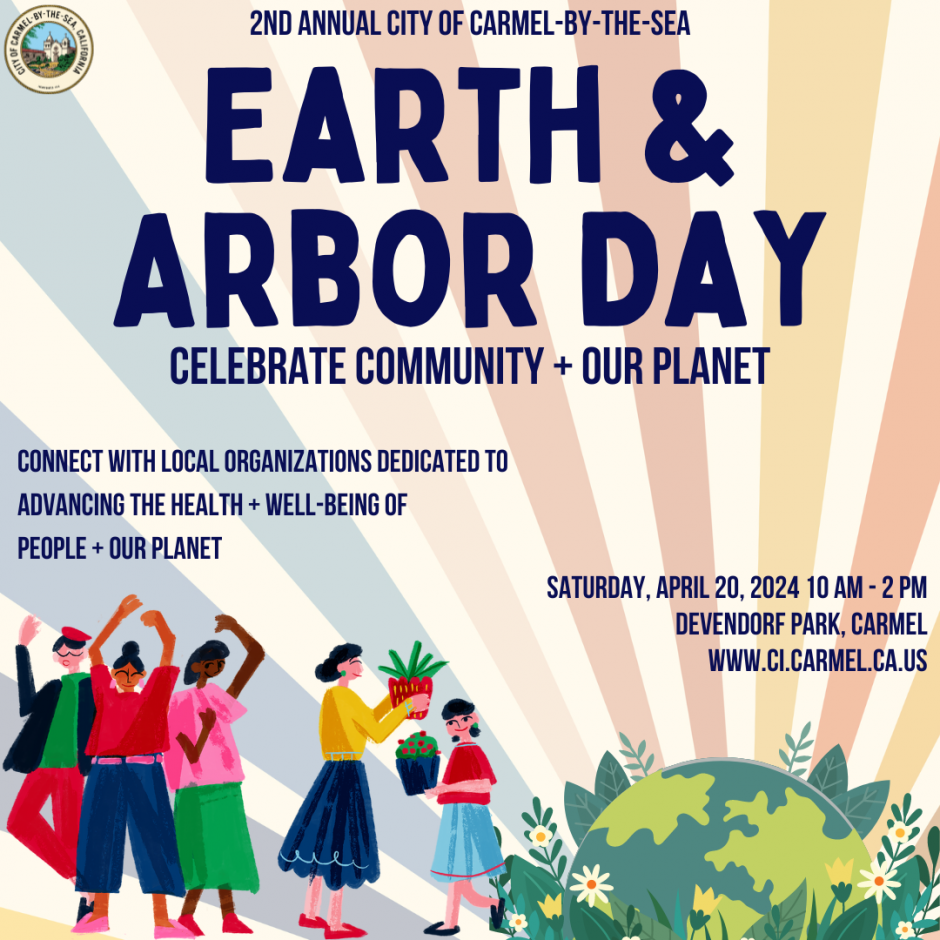 Come celebrate Earth Day with us!
Join us on Saturday, April 22 from 10am to 2pm at Devendorf Park for City of Carmel-by-the-Sea's inaugural Earth Day event to celebrate the adoption of our Climate Action and Adaptation Plan.
Visit all your favorite local groups who will be showcasing their programs and services to help you live sustainably and reduce your environmental footprint.
Local businesses whose products also promote green lifestyles– including Eco Carmel and Mad Dogs & Englishmen Bike Shop– will also be there, so come support them!
In acknowledgement of Arbor Day and to celebrate our Tree City USA status, there will be a tree planting ceremony hosted by the Public Works Department. Family-fun activities will also be led by the Carmel Youth Center, The Wahine Project, and Ecology Action.
Thank you to our partners for supporting this event: Carmel-by-the-Sea Community Activities Department, Carmel Chamber of Commerce, and Central Coast Community Energy.
List of participating organizations
Friends of Mission Trail Nature Preserve
Join the Resilient Carmel movement and participate in the Earth Day Challenge!
One of our participating organizations, Ecology Action, is leading the Resilient Central Coast campaign to reduce our carbon emissions! The goal is to get at least 5,200 households to participate and reduce our carbon emissions by 2,600 tons by Earth Day 2023.
The Resilient Carmel movement includes solutions to reduce carbon emissions, increase resilience, and advance climate equity. Participating in this community campaign is a simple and fun way to take action and save money, energy, and water, while reducing waste and building empowered, connected communities. You can find tips, free resources, and information on available programs, rebates, and incentives. The platform tracks your progress and makes it easy to connect and work with your friends, neighbors, and any community you belong to.
Join today and learn how you can help advance a safe, healthy, and resilient future for Carmel-by-the-Sea!