Car Week 2023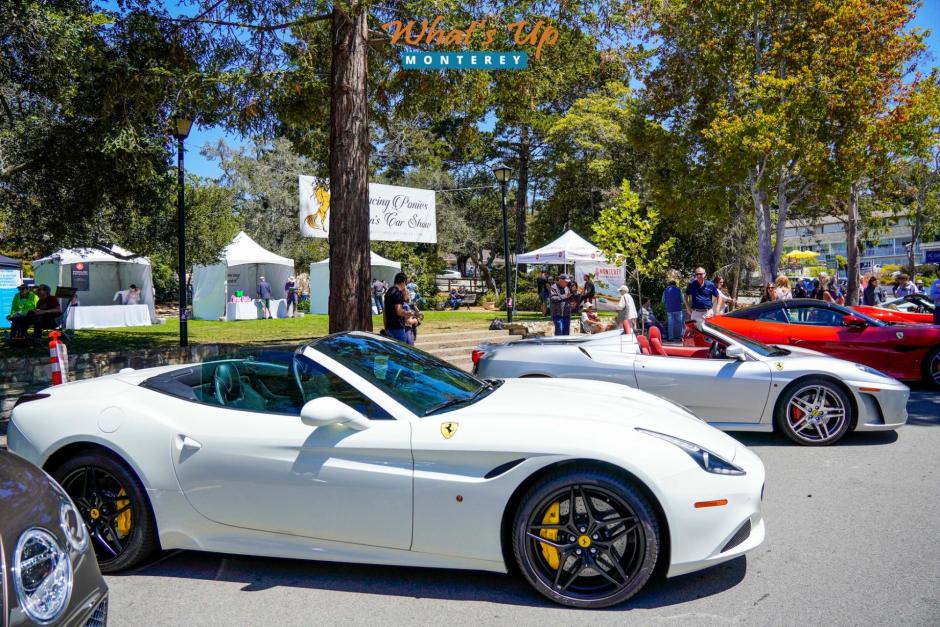 As many locals and visitors are aware, the month of August is a particularly busy month on the Peninsula. The City has compiled the following resources to help everyone navigate safely through the month of August.
**UPDATE FROM CARMEL POLICE DEPARTMENT – 8/18/23 AT 6:20 PM**
Wires down on Junipero and 11th. Large tree branch took down power lines. North and southbound traffic blocked on Junipero. Road will be closed until PG&E arrives to repair power lines and there will be a power outage.
Car Week Events in Carmel-by-the-Sea
This year Car Week extends from Friday, August 11 through Sunday, August 20. The Monterey County Convention and Visitors Bureau has created a guide and interactive map of all Car Week events, road closures, etc, useful for everyone looking to attend the events or avoid traffic impacts.
The City of Carmel will be hosting two events during the week:
On Tuesday, August 15 Acura will showcase cars in Devendorf Park on the corner of Ocean and Junipero.
On Wednesday, August 16 Concours for a Cause featuring classic cars converted to electric and much more in Devendorf Park on the corner of Ocean and Junipero
On Thursday, August 17 the all-women Prancing Ponies Car Show will display cars on Ocean Avenue between Junipero and San Carlos and Mission between 6th and 7th.
On Thursday, August 17 the Ferrari Owners Club will display classic Ferraris and motorbikes on Dolores between 7th and Ocean
As of 2022 the two traditional Carmel-by-the-Sea Car Week events, Concours on the Avenue (COTA) and the Pebble Beach Tour d'Elegance are not returning.
Traffic calming measures will be in place in the evenings in the commercial district.
NEW! Sign up for CARWEEK Text Alerts! Text
Public Alert & Warning Info: For Car Week safety messaging text "CARWEEK" to 888777 or Sign up at alertmontereycounty.org
Language for Public Dissemination: "Monterey Car Week is back August 11 – 20th. Sign up to receive safety messages and text updates related to Car Week by texting "CARWEEK" to 888777." ( Graphics can be found HERE.)
Social media hashtag #MontereyCarWeek will be used to communicate social public safety information.
Car Week Event Organizers can report or request information to/from the JIC Point of Contact:

Event Operational changes/challenges
Event traffic conditions/accidents
Crowd estimates
Public/Media Inquires
Rumors
STOPP
The Carmel by-the Sea Police Department makes the safety of the village a top priority.
On Thursday, August 17, 2023, the Carmel by-the Sea Police Department will be hosting STOPP (Strategic Traffic Observation and Prevention Program) which is the combined traffic enforcement efforts of multiple agencies within Monterey County. Participating agencies include Salinas, Monterey, Seaside, Pacific Grove, and the California Highway Patrol.
The mission of STOPP Officers is to target specific traffic violations within the Monterey Peninsula, addressing intersections and roadways with high proportions of traffic collisions, and vehicle code violations to ensure the safety for all motorist and pedestrians. The ultimate goal is to reduce traffic collisions, increase motorist, and pedestrian safety.
Participating agencies will accomplish this by using traffic enforcement techniques and saturation. This added enforcement will be crucial to the added vehicle and pedestrian traffic in Carmel by-the Sea and the Monterey Peninsula will host during Car Week 2023.
Local Traffic
Heavy traffic in and around Carmel-by-the-Sea is expected for the entire week. The City is encouraging the use of Carpenter Street and Rio Road to enter and exit the City.
Free parking is available at Sunset Center at San Carlos Street & Ninth Avenue and Vista Lobos located at Torres Street and Third Avenue.
There will not be any shuttles this year at Carmel Mission.
Locals who are scheduling appointments and conducting regular business during this week are reminded to be aware of the increased traffic levels and schedule accordingly.
Construction parking permits will not be issued during Car Week.
Please contact the City of Carmel-by-the-Sea Community Activities Department at 831.620.2020 or communityactivities@ci.carmel.ca.us with any questions.
Car Week Event Organizer – Point of Contact Information
Car Week 2023 - Event Resource Sheet
JIC Point of Contact (POC): Justin Lin: linj1@co.monterey.ca.us or call 831-905-5500
For Emergencies, safety issues, or suspicious activity contact 9-1-1