Cannery Row Days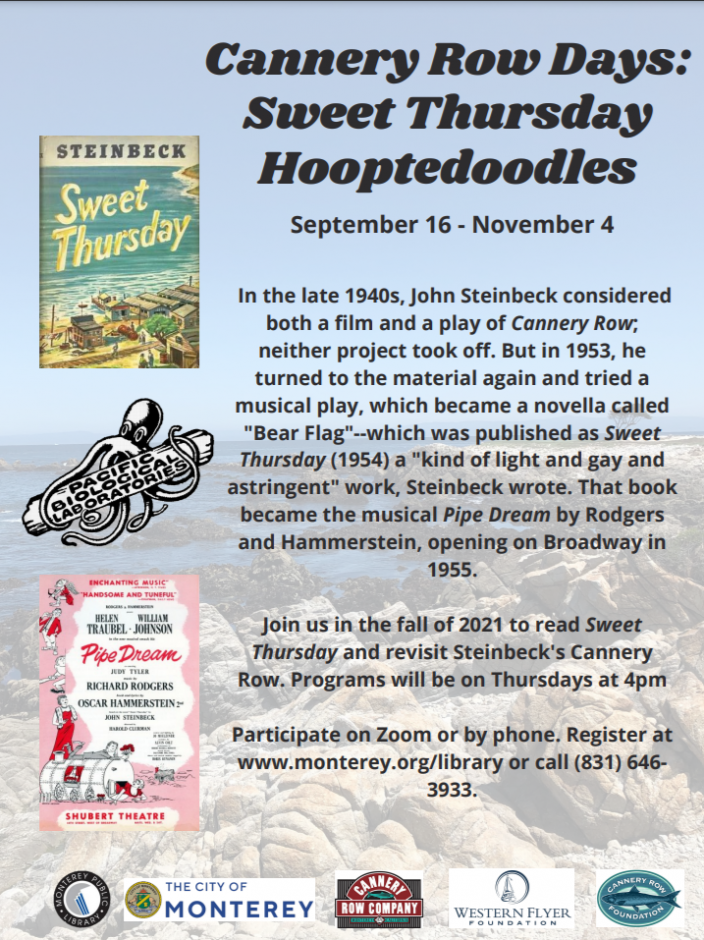 The Monterey Public Library, in partnership with Cannery Row Company, Western Flyer Foundation, and the Cannery Row Foundation would like to invite you to join us as we celebrate Cannery Row Days: Sweet Thursday Hooptedoodles. This year, we will be hosting a variety of online programs that will explore Steinbeck's novel Sweet Thursday, the history, music, natural environment, and the Broadway production.
Register for these free programs here, or use the links below.
In the late 1940s, John Steinbeck considered both a film and a play of Cannery Row; neither project took off. However, in 1953, he turned to the material again and tried a musical play, which became a novella called "Bear Flag"–which was published as Sweet Thursday (1954) a "kind of light and gay and astringent" work, Steinbeck wrote. That book would become the musical Pipe Dream by Rodgers and Hammerstein, opening on Broadway in 1955.
All programs will be virtual and recordings will be available on Monterey Public Library's Youtube Channel.
Cannery Row Days:
Natural Fluctuations? Sea Stars, Urchins, Kelps, and Squids (Thursday, October 28, 2021 at 4pm)

Greg Cailliet will explore the natural and human-caused cycles that have occurred over the decades in the Monterey Bay ecosystems.

Pipe Dream: Sweet Thursday's Musical (Thursday, November 4, 2021 at 4pm)

Broadway actor Anthony Newfield provides a glimpse into the 1955 Broadway production of Pipe Dream, based on John Steinbeck's novel Sweet Thursday