Author Talk: Kwame Alexander on "Becoming Muhammad Ali"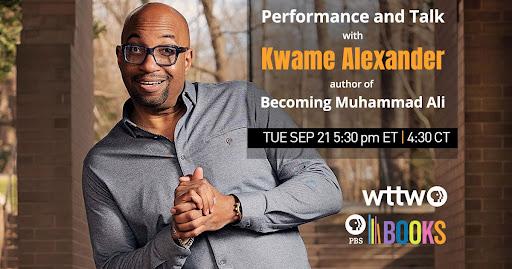 Join us as we collaborate with PBS Books and WTTW – Chicago PBS via Facebook Live for a Performance and Talk with Kwame Alexander, author of Becoming Muhammad Ali. Brandis Friedman, co-anchor and correspondent for WTTW's flagship nightly news magazine Chicago Tonight and host of Chicago Tonight: Black Voices, will moderate the conversation.
To watch this free virtual program, tune in to the PBS Books Facebook page, Youtube livestream or watch below on September 21 at 2:30pm.
Chronicled from childhood through adolescence Kwame Alexander describes the extraordinary journey of Cassius Clay, and his legendary rise to boxing stardom - in this compelling book, Becoming Mahammad Ali, written in collaboration with co-author James Patterson. Learn about Cassius' upbringing in Louisville, Kentucky, meet his family, neighbors, and childhood and friends, and follow his struggles in school, the racism he faced, and his discovery of boxing.
Kwame Alexander is a poet, educator, publisher, and New York Times bestselling author of 35 books, notably Swing; Becoming Muhammad Ali, co-authored with James Patterson; Booked, longlisted for the National Book Award; Rebound, shortlisted for the prestigious Carnegie Medal (UK); The Undefeated, a picture book illustrated by Kadir Nelson that won the Caldecott and Newbery Medals; and his Newbery Medal-winning novel The Crossover.
Learn more about this author, visit www.kwamealexander.com.