Collections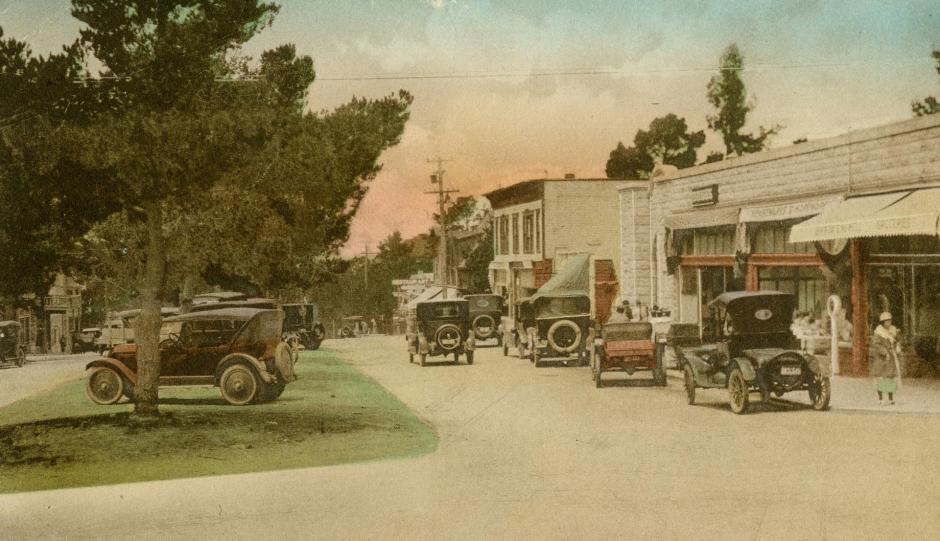 Digital Resources
Internet Archive: Carmel Pine Cone newspaper 1915-2006; oral history interviews with James Hopper, Herbert Heron, Walter Victorine, Ruth Warshawsky and others; local history lectures on topics including the Del Monte Express, Monterey Peninsula artists, Cole Weston, Nora May French; photographs of plays at the Forest Theater 1910-1960s; scrapbooks for the Forest Theater, Carmel Arts and Crafts Club, and more.
Photographs
Over 7,000 photographs from the Carmel area's early days up to the present, scenes of Carmel's natural beauty, architecture, personalities, cultural events. Also represented are views of Point Lobos and other Peninsula cities.
Online Collections
More Photograph Collections
Carmel Bach Festival
Edgar A. Cohen
Forest Theater
Golden Bough Theater
Lewis Josselyn
Arthur McEwen
Margye Neswitz
Perry and Ida Brooks Newberry
Catherine and George Seideneck
Louis Slevin
Lincoln Steffens and Ella Winter
Frank Wulzen
Archival Collections
Collections relating to the history and development of Carmel, such as the Devendorf Collection of Carmel Development Co. Papers, the city clerk's building permit books, personal written memories of Carmel, correspondence, newspaper clippings, scrapbooks, etc.
Online Collections
More Archival Collections
Carmel Bach Festival
Carmel Citizens Committee
Carmel Fire Department
Carmel Music Society
Carmel Preservation Foundation
Carmel USO
Hugh Comstock
Jean Kellogg Dickie
Ella Reid Harrison and the Harrison Memorial Library
Herbert Heron and the Forest Theater
Edward Kuster and the Golden Bough Theater
Gunnar and Wies Norberg
Geza Saint Galy
Enid Sales
Vincent Torras
Alexander and Marian Weygers
Books and Manuscripts
Fiction and nonfiction books about Carmel and Carmel residents, as well as select books written by Carmel residents, that cover topics that include history, geography, art, architecture, photography, drama, and biography. Also included are Polk City Directories 1925-1987, and reverse lookup directories 1977-2014. Manuscripts include play and television scripts, memoirs, and fiction manuscripts by local authors such as Herbert Heron, Perry Newberry, Robert Campbell, Albert Leon Van Houtte and Steve Crouch.
Periodicals
Magazines published in the Carmel area from 1925 to the present, including full runs of Game & Gossip and Carmel Magazine. Magazines from throughout the U.S. from the 1890's to the present containing articles by Carmel authors or about the Monterey Peninsula. Newsletters from many of Carmel's various organizations.
Audiovisual Materials
Online Materials