Big Sky
Kate Atkinson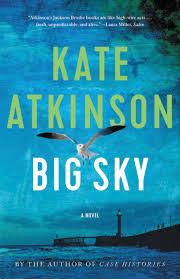 Big Sky is the fifth in the Jackson Brodie series, by the ever-inventive Kate Atkinson. Brodie is a likable British ex-cop, now private detective. The novels are all told from multiple points of view, but they all come together in often surprising ways.
Private investigator Brodie has returned to his seaside village in Yorkshire, but despite the picturesque surrounds, there's something darker lurking behind the scenes, where old secrets and new lies are bound to intersect.
We have the TV series as well, called Case Histories, named for the first book in the series.