Community Night with the Library: Your Personal Carbon Footprint
Carpenter Hall, Sunset Center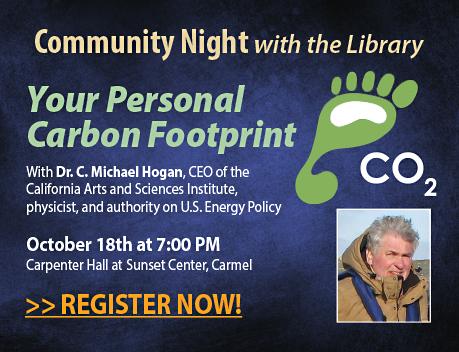 How many tons (yes, tons!) of carbon are we personally responsible for emitting each year? Learn about Your Personal Carbon Footprint, with Dr. C. Michael Hogan, CEO of the California Arts and Sciences Institute and authority on U.S. energy policy, as he takes us on an interactive journey of the impact our lifestyle has on the overall environmental crisis. By measuring our behavioral choices including food consumption, transportation choices, gardening preferences, use of electronic devices, and financial decisions, we can all play a more proactive role in the carbon emissions cycle, and our overall ecological and biological health system.
Register for Community Night with the Library – Your Personal Carbon Footprint.
Hosted by the Carmel Public Library Foundation.