Wright on Exhibit: Frank Lloyd Wright's Architectural Exhibitions
Henry Meade Williams Local History Lecture, sponsored by the Frank & Eva Buck Foundation and Robert & Lacy Buck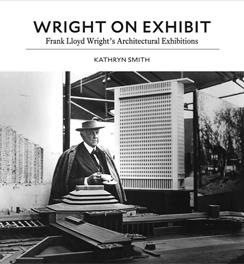 Frank Lloyd Wright, the creator of New York's Guggenheim Museum and Fallingwater, a house over a waterfall, is universally regarded as the greatest American architect who ever lived. In her new book, Wright on Exhibit, Kathryn Smith charts Frank Lloyd Wright's rise and fall and rise again in a revealing exposition of how Wright refused to be forgotten and what he did step by step to attract the admiration of millions of Americans, not to mention the Europeans and Japanese. Smith will devote special attention to one of Wright's most dramatic houses by the water, the Mrs. Della Walker House, Carmel-by-the-Sea, the only other Wright building that can be compared to Fallingwater in its profound connection between man and nature.
Kathryn Smith is an architectural historian, who is an historic preservation consultant, author, and lecturer. Her books include Wright on Exhibit: Frank Lloyd Wright's Architectural Exhibitions (2017), Frank Lloyd Wright: American Master (2009), Frank Lloyd Wright's Taliesin and Taliesin West (1997), and Frank Lloyd Wright, Hollyhock House and Olive Hill (1992). Smith has been a consultant to Graycliff Conservancy, Florida Southern College, and Barnsdall Park. She has held NEH, NEA, and Graham Foundation fellowships. In 2003, she was Scholar-in-Residence at the Robie House, Chicago. In 2001, Smith was awarded the Wright Spirit Award in the Professional Category from the Building Conservancy.
Carpenter Hall at Sunset Center, 9th and Mission, Carmel. Questions? Call 831-624-2811.