The Theatre of the Golden Bough in the Golden Era
Henry Meade Williams Local History Lecture, sponsored by the Frank & Eva Buck Foundation and Robert & Lacy Buck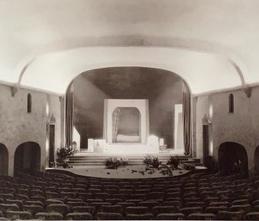 Rediscover the epicenter for creativity in Carmel and the dynamic man who created it.
The original Theatre of the Golden Bough was founded, built, and directed by Edward Kuster in 1924. The theater was a Carmel cultural landmark, and who better to recount its history than the founder's daughter, Marcia Kuster Rider. The Golden Bough offered a staggering 50 productions a year and was the epicenter for creativity in Carmel during the Golden Era years of 1924-1935. It drew national as well as international attention and became known as an important proving ground for both actors and playwrights. This talk, illustrated by photographs, will highlight the theater as well as the dynamic man who created it.
___________
Some 100,000 audience members came through each year, and some plays – many of them premiers – ran for only one weekend, meaning the Golden Bough was churning through material, with up to 50 different plays per year; Carmel had arrived on the arts map, including in the realm of the stage. "It was just this huge hotbed of artistic output," Moorer says.
Kuster and the theater remained controversial, with a number of actors and playwrights whose work he'd deemed not good enough for his venue. (There were also regular Communist group meetings happening there.) So there was reason to suspect arson when one weekend in 1935, at the peak of Golden Bough's success, the theater mysteriously burned down. It was the opening weekend of a production of By Candlelight, a German comedy newly translated into English.
Kuster rebuilt on Monte Verde at the Clubhouse, this time calling it the Golden Bough Playhouse, and the tradition carried on. That was until 1949, when the aging cast of By Candlelight approached Kuster and asked for another shot at producing the play they'd memorized and rehearsed. Within a week of opening the play, the Golden Bough burned to the ground.
"We'll never do By Candlelight," Moorer says. "Now we've got our theater built the way we like it."
Kuster was out of money, but he did rebuild one more time, in 1952, thanks to a massive fundraising effort. The Golden Bough went on to become a movie theater – where Moorer remembers seeing the original Star Wars in 1978 – and was then set to be sold and subdivided into four residential lots.
Carpenter Hall at Sunset Center, 9th and Mission, Carmel. Questions? Call 831-624-2811.