Libby
Popular eBooks and audiobooks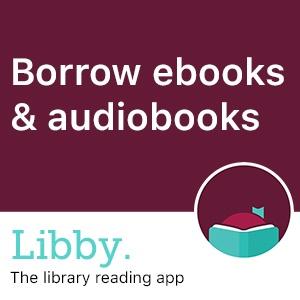 The Northern California Digital Library, through Libby, features popular eBooks and audiobooks. Download the Libby app or log in on your computer using your library card number and PIN.
What about Overdrive?
The Overdrive app is being retired. If you have the Overdrive app on your device, it will still work, but it won't be available for download from app stores. More information here.
What's available?
Thousands of popular eBooks and audiobooks.
What devices are supported?
Android, Apple, Windows, Google Chromebook, Kindle eReaders (no app, use in-browser), Nook, some MP3 players.
How do you get set up?
If you're using a smartphone or tablet, you can just download the Libby app, create a free account, and link your account to the Harrison Memorial Library. Then you can browse for books, check them out, and download them directly in the app.
If you're using a Kindle eReader or a computer, you can access the collection via the Internet, log in with your library card, and download books from there. If you're on a computer, you can start reading right away in your Internet browser, or you can transfer the books to your Kindle eReader.