Saint Junipero Serra and the Dream of California
Henry Meade Williams Local History Lecture, sponsored by the Frank & Eva Buck Foundation and Robert & Lacy Buck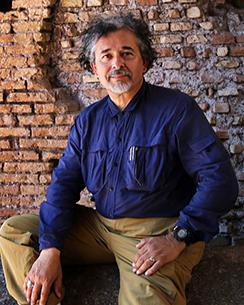 Archaeologist, writer, photographer, and Professor Rubén G. Mendoza will address the events leading to, and culminating with, the Papal Canonization of San Junípero Serra, OFM. Mendoza will address the back story surrounding the Serra Canonization from the standpoint of an archaeologist and historian with long experience in that work needed to address the contested histories of the California missions. More specifically, Professor Mendoza, acclaimed archaeologist, writer, and photographer provides an insider's perspective regarding just how the process unfolded during the year of the Serra Canonization, including the Serra Symposium and Papal Mass at the Vatican, and Pope Francis' subsequent visit to the US. This presentation will be fully illustrated with images from archaeological and historical field investigations leading to key archaeological findings that culminated in the Papal invitation for the speaker's participation in the Serra Symposium, and includes images from the Serra Mass convened in Vatican City, and the subsequent Papal visit to the US for the Serra Canonization and the barrage of media coverage that ensued. (See www.latimes.com/local/great-reads/la-me-c1-serra-awakening-20150317-story.html for Los Angeles Times article regarding discovery of the Serra Chapel).
Dr. Rubén Mendoza is a founding faculty member and Professor of Archaeology and Social and Behavioral Sciences at the California State University, Monterey Bay. As an archaeologist, writer, and photographer, he has explored the length and breadth of Mexico, Central America, Europe, and the US Southwest documenting historic sites and collections. Dr. Mendoza has directed major archaeological investigations at the historic Spanish missions of San Juan Bautista, San Carlos Borromeo, San Miguel Arcángel, Nuestra Señora de la Soledad, and the 16th century Ex-Convento de la Concepcion in Puebla, Mexico. His recent efforts at the Royal Presidio of Monterey resulted in the discovery of the earliest Fray Junípero Serra-era Christian churches in California dated to 1770 and 1771-72, and for that work he was awarded the California Preservation Foundation Preservation Design Award for 2009. As Project Manager to the San Juan Bautista Mission Conservation Program, Dr. Mendoza is charged with professional oversight of the mission restoration effort.
Dr. Mendoza has published some 116 academic books, scholarly articles, book chapters, reviews, and hundreds of photographs. His contributions to "furthering the preservation and protection of the California Missions" was acknowledged by the California Mission Curators and Directors Conference with the granting of the Father Fermín Francisco de Lasuén Award for 2010. Since 2009, Dr. Mendoza has collaborated with publisher David McLaughlin on a host of publishing projects ranging from The California Missions Source Book (2009) and The California Missions' Timeline (2009) through to Fermín Francisco de Lasuén: An Illustrated Timeline (2012).
Carpenter Hall at Sunset Center, 9th and Mission, Carmel. Questions? Call 831-624-2811.