The life of Jo Mora in Monterey County and Carmel
Henry Meade Williams Local History Lecture, sponsored by the Frank & Eva Buck Foundation and Robert & Lacy Buck.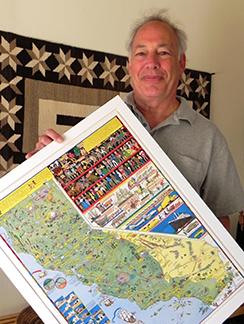 Join Peter Hiller to learn more about the history of Monterey County, as it was interpreted by its ever-engaging, adopted native son, Jo Mora.
In 1920, Mora moved to Carmel from the San Francisco Bay Area to work on what was to become his masterpiece – the Father Serra Cenotaph, in the Memorial Chapel in El Carmelo Mission. Carmel priest Ramon Mestres commissioned Mora to create the bronze and travertine memorial, along with the cross and altar, that were dedicated on October 12, 1924.
Mora's presence continues to be found in Carmel. Concurrent with his work at the mission, Mora carved the wooden oak Serra Shrine located at Camino Del Monte and Alta, as a commission for S.F.B. Morse, for what was to be the gateway to Morse's residential subdivision in Pebble Beach. This Carmel landmark was dedicated on July 22, 1922.

Mora is probably best known publicly for the series of maps – or cartes, as he referred to them – that he created. These historically accurate, humorous, and collectable prints have entertained viewers for years. His homage to Carmel, the Carmel-By-The-Sea carte, was printed in 1942 and highlights much of the colorful history of the town.
Carpenter Hall at Sunset Center, 9th and Mission, Carmel. Questions? Call 831-624-2811.