Food for Fines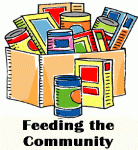 During the month of December the library will forgive fines for patrons who bring in non-perishable food items for donation to the Food Bank for Monterey County. Take advantage of the opportunity to clear your fines and help a worthy cause, all at once.
One can of food or 4 bags of ramen = $1 forgiven in fines. These food items are especially needed:
Canned meats or fish
Chili
Soups or stews
Fruits or vegetables
Juices
Peanut butter
Boxed macaroni and cheese
Dry cereal or oatmeal
Rice and pasta
No items in glass containers and no outdated food please.