Time Travel – Carmel Beach's Past
59th Annual Great Sandcastle Competition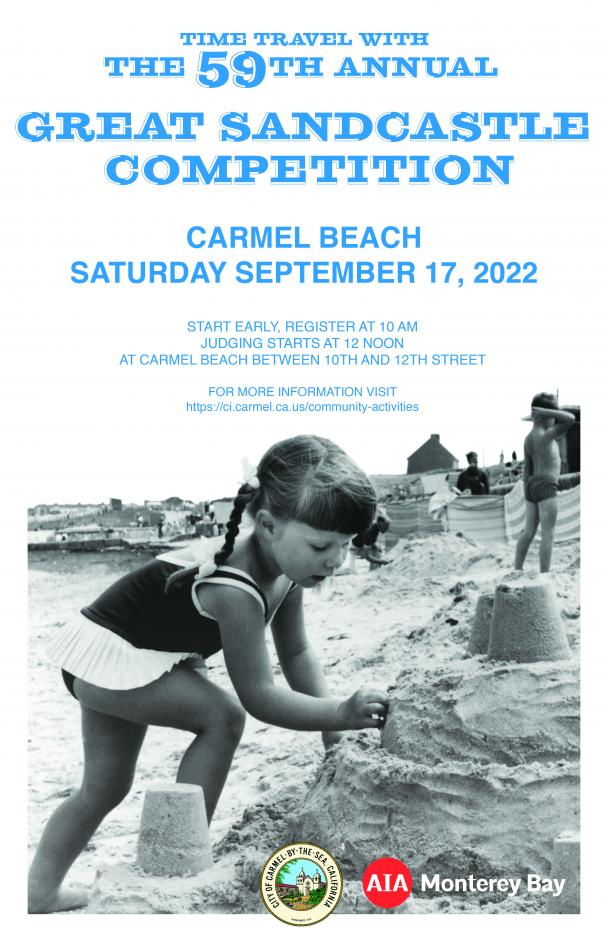 The City of Carmel-by-the Sea and the Monterey Bay Chapter of the American Institute of Architects invite you to participate and/or attend the 59th Annual Great Sandcastle Competition on Saturday, September 17, 2022, from 8:00 am – 2:00 pm. Judging begins at noon and awards will be handed out around 2:00 pm.
We have been reviewing the archives and uncovered a counting mix-up somewhere in the middle of our long history, we've been off by 2 years! We are going back in time to correct this error and we are inviting you to join us.
Create a sand sculpture, architectural or otherwise, from any era you choose from Carmel Beach's past – historic or prehistoric (think deep sea creatures!). Children and school groups, answer the challenge! What a great local history project!
Sandcastle building boundaries are between 10th Avenue and 12th Avenue. No need to register early, just show up on Saturday and stop by the registration table located on the beach at 11th Avenue.
The rules are simple:
First & foremost: HAVE FUN!
Always use stairways going to and from the beach. Walking on the slopes and beach bluffs is prohibited.
Build sand castles within the designated contest boundaries (10th Ave – 12th Ave)
The contest is open to all ages.
Skill level is not important – judging takes place in many categories.
Following the theme is not required.
Artistic expression is encouraged – just keep it family-friendly.
No power tools may be used.
Sandcastles/sculptures must be made of natural materials found at the beach. No paints or artificial colorings may be used.
Commercial or political advertising is not appropriate.
A project may be disqualified at the judges' discretion.
Dogs are best left at home, but if you must bring them please keep them on a short leash. One stray dog can ruin a day's hard work in a few minutes.
Please respect the beach and your fellow beachgoers by cleaning up after yourself.
Bribery of Sand Castle Officials is condoned and encouraged! Bribes should be kept in good taste (or at least taste good). Monetary bribes can not be accepted.
The judges' decisions are arbitrary and final.
The City's Beach Fire Rules will be enforced on this day.
BEACH FIRE RULES
Building a wood fire directly on the sand is prohibited.
Clean, dry firewood should be burned only in City supplied fire pits
Five (5) City supplied smokeless fire pits are installed on the beach from May 15th through September 15th
City fire pits are available on a first-come, first-served basis
Fires are only allowed between the hours of 4:00 p.m. – 10:00 p.m.
Fires are only allowed south of 10th Avenue (10th Ave. to Martin Way).
Do not burn driftwood
Do not burn trash
Do not burn compressed fire logs (e.g.: Duraflame, Presto, etc.)
Extinguish fires with water only or let burn out – Do not use sand.
User-supplied propane-fueled devices are allowed year-round
Charcoal BBQs, fireworks, tiki torches, sky lanterns, and other fuel tanks are prohibited.
Bonfires are not allowed.
Firewood should be placed below the rim of the pit.
Please remove your leftover firewood. Do not leave it on the beach or place it in trash carts.
Clean, dry firewood can be purchased at local markets/stores.
GRILLING AND COOKING AT THE BEACH
Cooking and grilling are allowed on Carmel Beach
Propane grills are allowed.
Cooking over a city-provided wood fire pit is allowed
Charcoal is prohibited