My Carmel Oral History Project
Deborah Whittlesey Sharp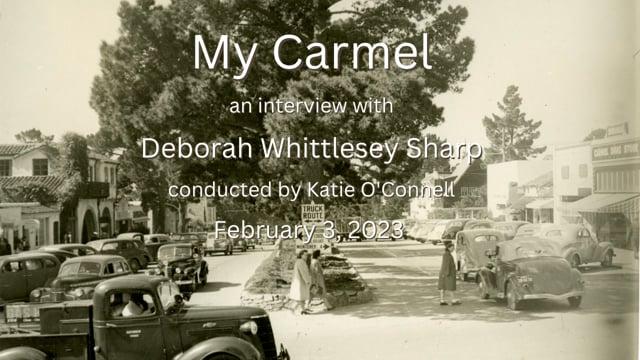 Deborah Whittlesey Sharp was born and raised in Carmel. She was in the last graduating 8th grade class at Sunset School and attended Carmel Middle and High Schools. Her father was Eben Whittlesey, who was on the Carmel City Council from 1960 to 1972, and served as mayor for 1962-1964. In 1963, the Whittleseys were invited to Mallorca, Spain to celebrate the 250th birthday of Junipero Serra.
Bill Hill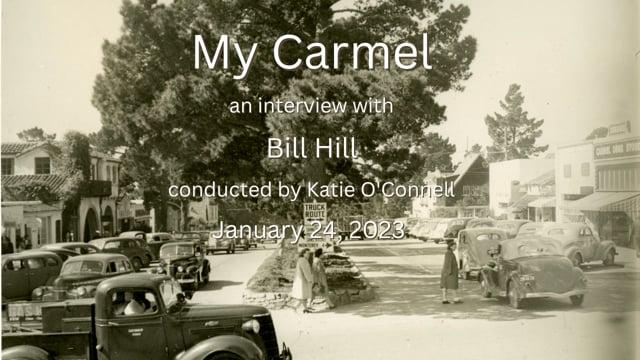 Bill Hill was born and raised in Carmel. He joined the Carmel Fire Department as a volunteer firefighter in 1964, and eventually served as fire chief from 1988 to 2001. He shares stories of growing up in Carmel, his time with the fire department, his interest in nature and marine biology, and the ways the town has changed.
Blanca Zarazua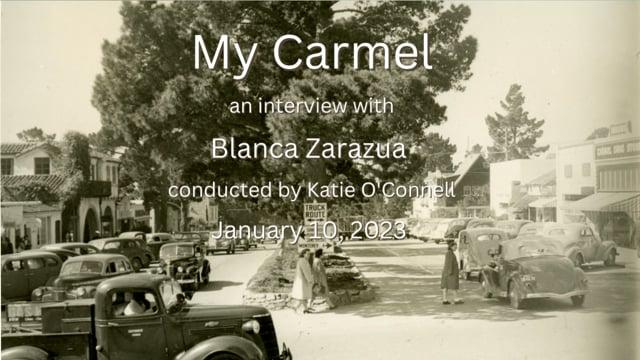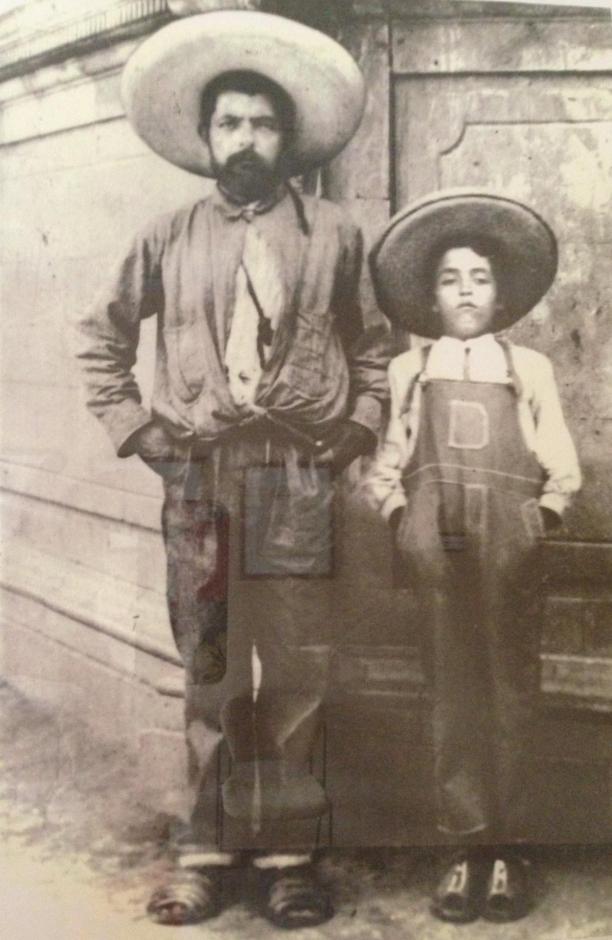 Blanca Zarazúa's father, Aquilino, came to the United States in 1945 when he began working as a Bracero or guest worker in Chualar, California. The Zarazua family came to Carmel Valley in the mid-1950s, and has been based here ever since. Blanca grew up in the valley and attended Carmel High School. She worked for the Peace Corps Headquarters in Washington, D.C., and as a law clerk with the California Supreme Court in San Francisco, before coming back to Monterey County and starting her own law firm. In 2003, she was appointed as Honorary Consul of Mexico for Monterey and Santa Cruz counties.
Lucinda "Cindy" Lloyd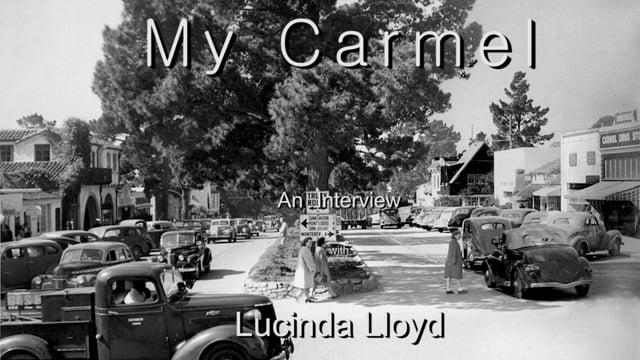 Cindy Lloyd is a life-long Carmelite, whose family fell in love with Carmel when her grandparents came here in 1911. She shares stories of growing up in town, going to Bay School and Sunset, and all the ways Carmel has changed.
Sunset School Kindergarten Class of 1939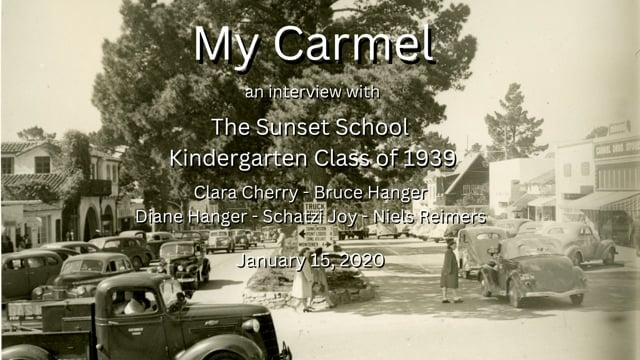 (AUDIO ONLY)
Five members of the Sunset School kindergarten class of 1939 (Clara Cherry, Bruce and Diane Hanger, Schatzi Joy, and Niels Reimers) share their memories of growing up in Carmel in the 1930s and 1940s. They tell stories of Sunset School and the Harrison Memorial Library, and share remembrances of the Great Depression and of World War II.
Russell "Russ" Harris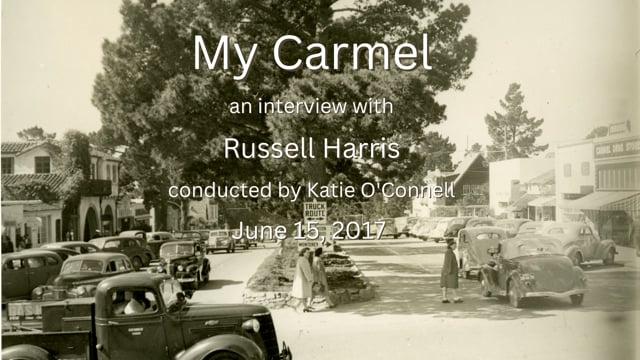 (AUDIO ONLY)
Robert Blaisdell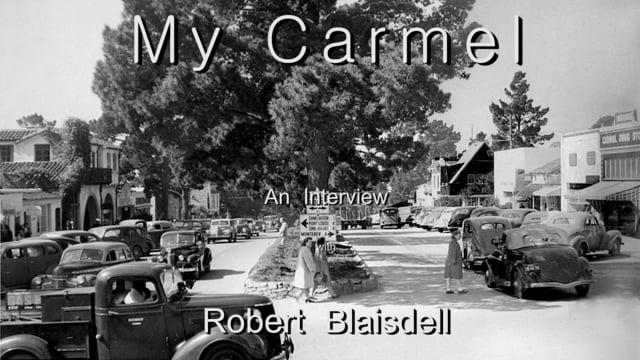 Robert Blaisdell is a celebrated director, photographer, and documentary filmmaker credited with more than 80 films, including "Big Sur: The Way It Was," "By Daylight & In Dreams," and the acclaimed film series "Poetry in America."
He comes from a family of photographers who were deeply involved in the cultural and artistic life of the Peninsula and Carmel, and Robert himself worked with Henry Miller, Cole Weston and Robinson Jeffers. His father, Henry Lee Blaisdell, was in charge of creating Point Lobos State Reserve and Pfeiffer Big Sur State Park.
Sam Farr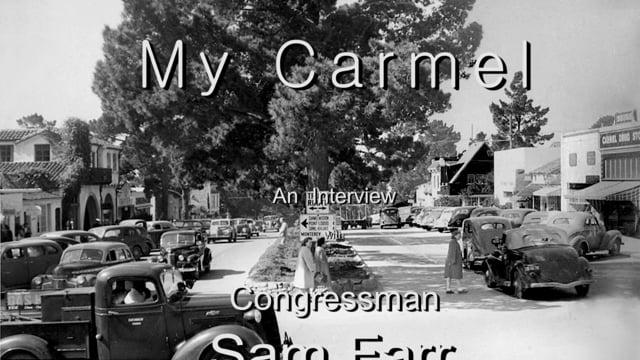 Congressmember Sam Farr represented California's Central Coast in the United States House of Representatives for twenty-three years until his retirement from office in 2016. Born in San Francisco on July 4, 1941, Farr grew up in Carmel and went to Sunset School and Carmel High School. Farr began his public service career in 1964 as a Peace Corps Volunteer in Colombia. After returning from Colombia, Farr served six years as a member of the Monterey County Board of Supervisors and twelve years in the California State Assembly. Farr was elected to Congress as a Democrat in 1993. During his career in public service, which spanned nearly five decades, Farr was a leading advocate for California agriculture, a champion of the oceans, and the author of legislation to establish Pinnacles National Park.
Elinor Laiolo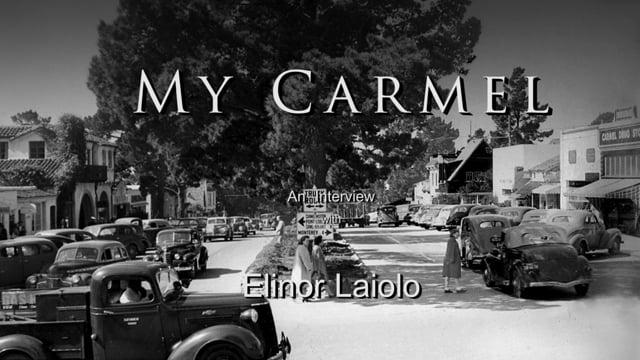 Katherine Elinor Shaughnessy Laiolo was born in Richmond, CA, on October 24, 1927. She graduated from San Francisco State College, and served as a teacher and principal in Richmond schools. Early in her career, she worked as a teacher in Department of Defense schools in Germany and Italy. Upon returning to the U.S., she led the first Head Start program in the nation in the Richmond schools. In 1978, Elinor married Barney Laiolo and moved to Carmel. She was dedicated to preserving and enhancing Carmel history and charm, and actively participated in Carmel's civic and social life. She was on the City planning committee for the papal visit of John Paul II to the Carmel Mission Basilica in 1987, and participated in the Sister City program when Carmel welcomed King Juan Carlos of Spain. In 1986 she was elected to the Carmel City Council, and served as vice mayor during Clint Eastwood's term as mayor.
William Brodsley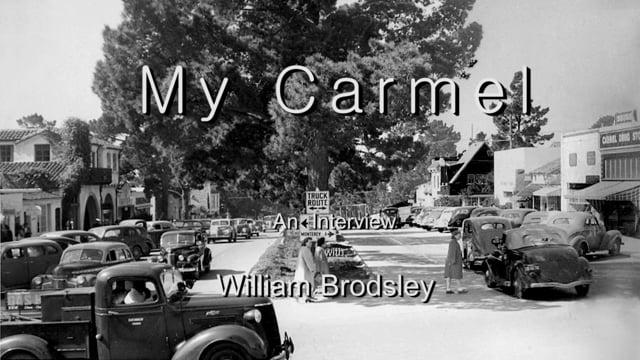 Born in New Jersey in 1931, Brodsley attended university at Rutgers in New Brunswick and joined the Navy. Brodsley's uncle, Barney Segal, also known as "Mr. Carmel," convinced Broadsley to come work for him in Carmel at the Bank of Carmel, and Brodsley has been a Carmelite ever since. Brodsley also ran his own real estate appraisal business for 18 years, and is currently a trustee of the Barnet J. Segal Charitable Trust.
Rod Dewar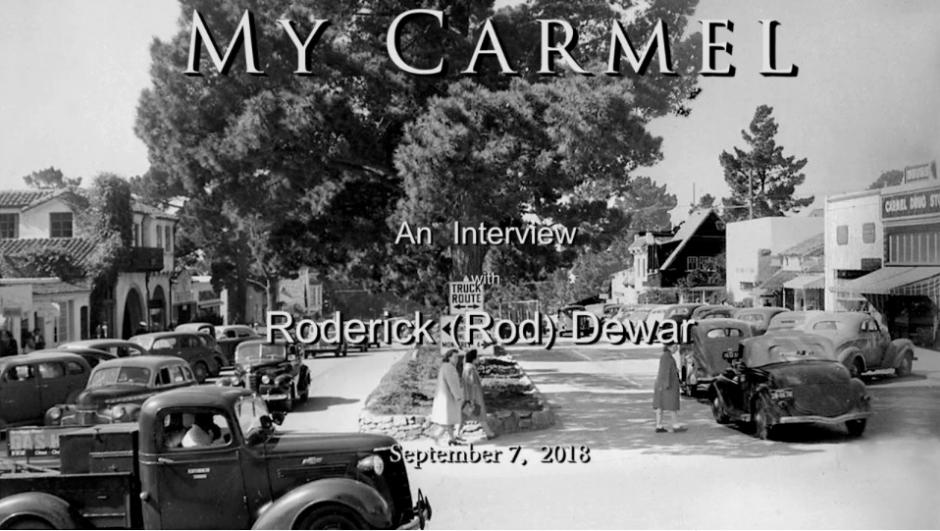 Rod Dewar grew up in Carmel during WWII. He attended Sunset School, where he founded and self-published the local newspaper "The Scoop". He graduated from Carmel High School in 1948 and went on to Stanford, where he studied law. Rod was drawn back to Carmel to raise a family of his own and now resides in Pebble Beach. He is an active community member and dedicated patron of the arts and education.
Sarah Berling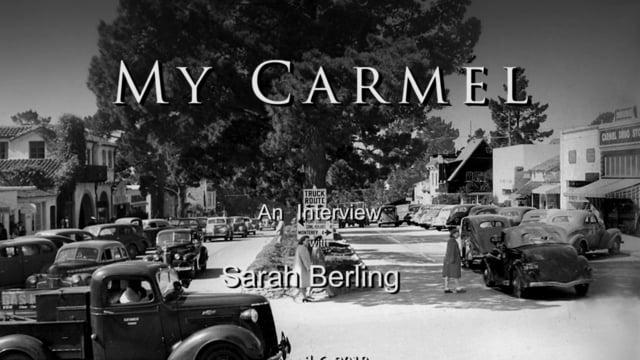 Born in Hartford, Connecticut, Sarah came to Carmel as a child when her father was stationed at the Naval Postgraduate School. Growing up in Carmel, Sue and her sister Sue attended Sunset school, just blocks from their mother's retail clothing business on Ocean avenue. She received a BA in history from Stanford University and a Master's Degree in Clinical Social Work from Denver University and worked as a therapist for over 40 years. Sarah's love of Carmel and it's environs has led her sit on the board of many local institutions including the Carmel Heritage Society and the Carmel Foundation.
Sue McCloud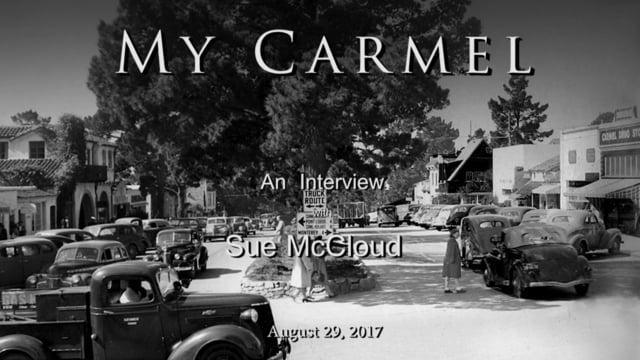 Born in Hartford, Connecticut, Sue came to Carmel as a child when her father was stationed at the Naval Postgraduate School. Growing up in Carmel, Sue and her sister Sarah attended Sunset School, just blocks from their mother's retail clothing business on Ocean Avenue. Sue received her BA in political science from Stanford University and in 1963 she joined the CIA and spent the next 30 years working with the agency. After the Cold War, Sue returned home to Carmel, where she was elected mayor in 2000.
Barbara Livingston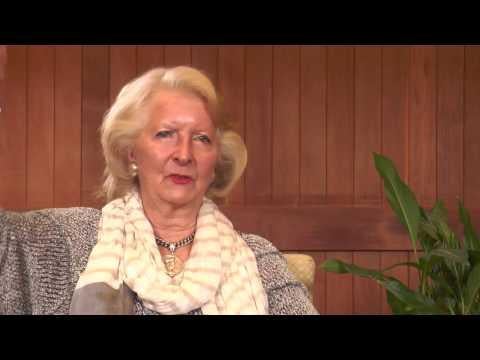 Barbara moved to Carmel-by-the-Sea with her family in 1936. She graduated from Carmel High School and went on to Stanford University. In 1977 she moved back to the Carmel area and has remained an active community member since, serving as a member of city council and as a volunteer and board member at various non-profit organizations on the Monterey Peninsula.
Carmel High School Class of 1951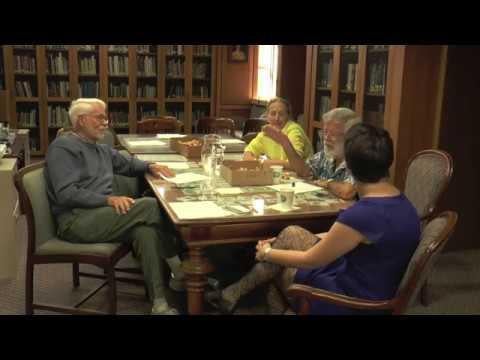 Born in Portland, Oregon in 1933, Ted Brandhorst spent his formative years in Carmel, graduating from Carmel High School in 1951. He went to University of Berkeley where is earned a master's degree in Library Science, which lead him first to work for the Library of Congress and then at NASA. Ted retired in 2000 and moved to Sarasota, Florida. He still recalls with fondness the summers he spent in California, in Carmel and exploring the Sierras.
Don Berry and Vince Torras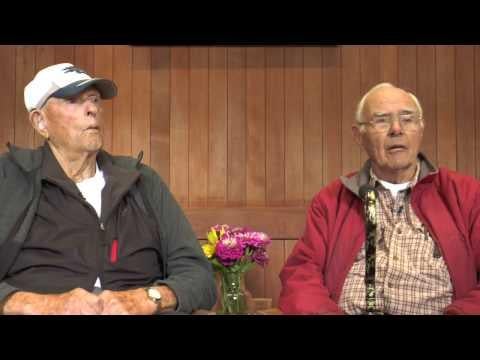 Born and raised on the Monterey Peninsula, Vince Torras came from a long line of Carmelites; his grandfather worked for M.J. Murphy and his father was the Fire Chief for Carmel for many years. He attended Sunset school and Carmel high school.and Vince fondly recalls the golden era of Carmel and all it's colorful characters. He joined the Marines and served in WWII before returning home to Carmel and working downtown at the Carmel Dairy and raising three children in Carmel.
Born in 1923 in Glendale, California, Berry's family came to Carmel during the Great Depression. He recalls his childhood in Carmel punctuated with camping trips and outdoor adventures. He attended Carmel high school and served in joined the Merchant Marines in WWII. Married twice, Berry raised his children in Carmel, sharing with them all the joys of Carmel childhood.
Niels Reimers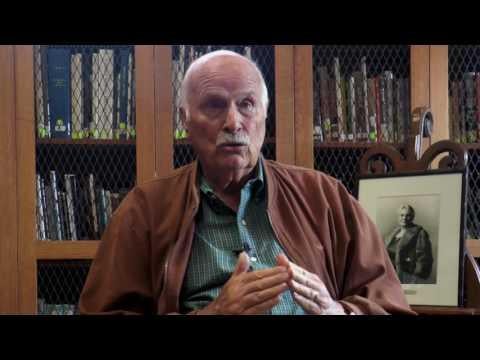 Neils Reimer was the last baby born at a hospital within the city limits of Carmel, in 1933. He went on to Oregon State University and served in the U.S. Navy aboard the USS Bon Homme Richard. He founded Stanford University's Office of Technology Licensing in 1969. Reimers worked at the Massachusetts Institute of Technology, the University of California at Berkeley and the University of California at San Francisco, before returning to his beloved hometown of Carmel after he retired from academic life in 1993.
Charlotte Townsend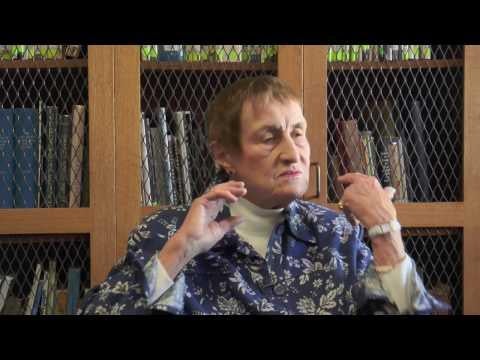 Born in Tacoma, Washington, in 1925, Charlotte moved to Carmel-by-the-Sea in the 1930s with her family. Charlotte recounts what it was like growing up in Carmel during the Great Depression, and riding her pony, Charm, around town. She attended Sunset school and later Stanford and the Sorbonne. Charlotte's love of Carmel led her to run for Mayor of Carmel in 1982. She served two consecutive terms.