Police Department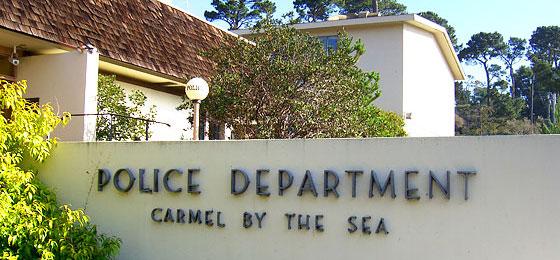 "Community Service with Pride"
CALL 911 FOR EMERGENCIES
The Police Department is responsible for law enforcement and crime prevention within the City of Carmel-by-the-Sea.
Through the provision of professional law enforcement services, CPD strives to maintain a high quality of life for all by supporting the rights of citizens and visitors to live in peace and safety.
Below are the answers to some common questions and requests:
"I got a ticket for ___. How do I take care of it?"
Municipal Code Violations
If you are cited for a violation of the City of Carmel Municipal Code, court information will be printed on your ticket. Please direct any questions regarding the fine amounts, court date, or other questions regarding the resolution of your citation to the court listed on the citation.
You will also receive correspondence from the City Attorney's Office in the mail.
The City Attorney's Office can be reached at 831-622-9679.
Moving Violations
If you are cited for a violation of the California Vehicle Code, court information will be printed on your ticket. Please direct any questions regarding the fine amounts, court date, traffic school eligibility or other questions regarding the resolution of your citation to the court listed on the citation.
Parking Citations
Parking fines must be paid within 21 days of issuance. Failure to pay may result in additional fines and a registration hold on your vehicle. If the fine is not noted on your citation, the vehicle's registered owner should receive a notice in the mail with the bail amount. You can pay by credit card, check or money order, payable to: The City of Carmel-by-the-Sea. Write the citation number on your check. 
If you lose the envelope, mail checks or money orders to:
Carmel-by-the-Sea
Parking Enforcement Center
PO Box 3214
Milwaukee, WI 53201-3214
OR
Pay by phone: 1-866-219-8726
OR
Contesting a Parking Ticket
To contest a parking ticket, come to the station in person and request an "admin review." You must provide a reason and any documentation related to your appeal. You will be notified by mail of the results of the review.
AB 503 – Payment Plan Information
In accordance with Assembly Bill 503, we offer the option for an installment payment plan to address unpaid parking citation balances. This program is offered to individuals that qualify as "indigent", based on established criteria . 
To apply, you must:
Request review for a payment plan within 21 days of the issuance of the citation
To request classification as "indigent", an application and supporting documentation must be submit and reviewed prior to determination, which usually takes less than 7 days. 
If eligible, a payment plan takes effect until the balance of the citations are paid, in installments of $25/month.
Not meeting eligibility criteria, failing to enroll in the payment plan, or comply with the program requirements results in the citation balance being due immediately, and if not paid, reporting to the Department of Motor Vehicles, which could delay registration of your vehicle. 
Pursuant to GC 68632 (a)/(b), an applicant receiving public benefits under SSI/SSP, CalWORKs, SNAP, CAPI, IHSS, Medi-Cal, or County relief programs or whose monthly income is 125% or less of the current federal poverty guidelines will be deemed eligible. When applying, please have documentation (proof of enrollment/paystubs/etc.) available to submit for review.     
If you are interested in applying for this program, please email rlightfoot@ci.carmel.ca.us to request an information packet.
"Where do I park?!?"
Good question. Parking Information has the answers on areas, time limits, and electric vehicles.
PS…wherever you can find it!
"My vehicle was towed. How do I get it back?"
Vehicles on public property may be towed if: (not inclusive)
They are in a no-parking area (temporary or permanent)
They are blocking a driveway or roadway
Five or more parking tickets have been issued and remain unpaid
Vehicle registration is expired over six months
If your vehicle is not where you parked it, call (831) 624-6403 to find out if your car has been towed.
Vehicle Releases
All vehicles towed must have a release form issued by the police department before the tow company can release them. Eligible vehicles are only released in person to the registered owner.
The owner must supply current valid registration, proof of insurance, a valid licensed driver and pay the $125 release fee to the Carmel Police Department. After obtaining a vehicle release form from the Police Department, the owner must take the form to the tow company, where all towing and storage fees must be paid prior to release. CPD is not responsible for setting, collecting or managing any tow and storage fees.
If the vehicle was towed for excessive citations, those must be paid at the Department of Motor Vehicles prior to the release of the vehicle. You must bring proof of payment to the Carmel Police Department.
If the vehicle has a 5/10/15/30 day hold, the owner may pick it up after the hold period is up. The owner will be responsible for all storage fees accrued during the hold.
If the vehicle owner would like to request a hearing regarding the tow, the owner must contact the Police Department at (831) 624-6403.
"I need a copy of a police report."
The Records Division is available 7 days per week. Records personnel can be reached by telephone or in person. Police reports may only be released to authorized parties and according to State law. Reports involving certain types of crime (i.e.; juvenile cases and some sex-related crimes) cannot be released to anyone except district attorneys or law enforcement agencies.
To determine if a report can be released to you, or for information about the status of your report, please contact the Records Division at 831-624-6403.
To obtain a copy of a releasable police report (i.e.; theft, property damage or loss, incident reports, traffic accidents), you must be a named involved party to the case (not merely a witness).
Any persons named as a suspect or arrested/cited party may not get copies of reports from the police department. Anyone named as a suspect, arrested/cited party should call the Monterey County District Attorney's Office at 831-755-5070 for procedures to obtain a copy of their report.
"I need to get fingerprinted for ___. Can you all do that?"
Live Scan & Fingerprinting Information
Fingerprinting is done on an appointment only basis. A fee is charged (begins at $35, and varies depending on the Live Scan request).
To set up an appointment for Live Scan Fingerprinting, please contact Dawn Almario at 831-624-6403 or dalmario@ci.carmel.ca.us.
"Has anyone turned in my ___. I lost them somewhere"
Lost and Found Property
If you find property that you believe to be lost, please turn it in at the Police Department, at the SE corner of 4th & Junipero.
If you believe that you have lost something while in the City of Carmel-by-the-Sea, please call the Records Division at 831-624-6403 to file a lost property report.
"What about fires at the beach?"
The issue of beach fires continues to be evaluated by the City. Beach Rules has the latest regulations.
Violation of the above mentioned regulations will result in a citation issued to the responsible party.
"How do I request traffic enforcement?"
In the interest of safety, we take all traffic-related complaints seriously and will do our best to assess the scope of the issue and take appropriate enforcement action.
To initiate a request for traffic enforcement, please email jboucher@ci.carmel.ca.us with an explanation of the issue and location, including any additional information that you have  (times of day, photos, specific vehicles etc.)
Animals in Carmel-by-the-Sea: The Rules
We've definitely earned our pet-friendly reputation!
Check out Animal Services for the do's and dont's with furry friends while in the City.
Residential and Commercial Alarm Permits
To apply for or renew an alarm permit, please contact the Records Division at 831-624-6403. There is a small fee for maintaining an alarm account.
For any other questions, comments, or concerns, please contact the front desk of the PD at 831-624-6403.