2018 Election
Serve your community by running for City Office.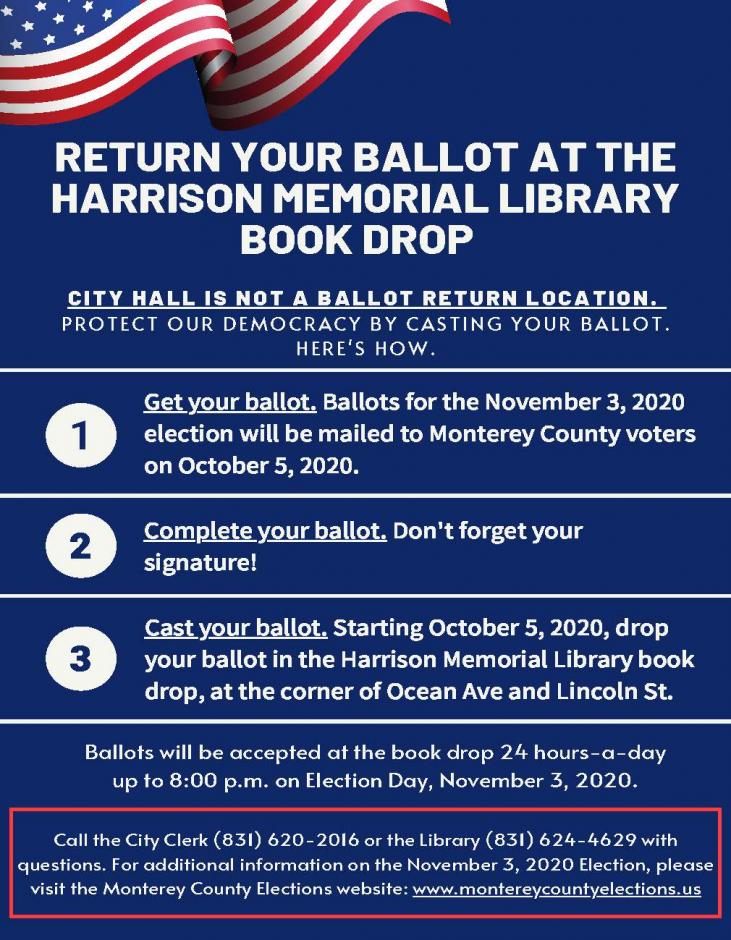 On November 6, 2018 the City of Carmel-by-the-Sea will hold a General Municipal Election. The purpose of this election is to vote for two (2) seats on the Carmel-by-the-Sea City Council, each for a full four-year term (2018-2022), and one Mayor, for a full two-year term (2018-2020).
Eligibility
An eligible voter in the City of Carmel-by-the-Sea must be a United States citizen, 18 years of age or older, and a resident of the City of Carmel-by-the-Sea. (Government Code §§ 34882, 347904, 36502).
Process
Filing nomination papers early permits review time to ensure legal requirements are met. The nomination period opens Monday, July 16 and closes Friday, August 10 at 5:00 pm. It is strongly recommended to call the City Clerk's Office at (831) 620-2016 to schedule an appointment for your filing, which takes approximately forty-five minutes. Office hours are Monday through Friday, 8:00 a.m. to 5:00 pm.
Campaign Finance
All local campaign Committees are required to file Campaign Statements with the City Clerk. The City Clerk maintains regulations and forms under the State's Political Reform Act. The public is welcome to view candidate forms from past elections here at City Hall. Forms for the upcoming election on November 6, 2018, will be placed here on the website as soon as they become available.
Past Election Results
2016 General Municipal Election - Final Election Results
2014 General Municipal Election Certification
2012 General Municipal Election Certification
2012 General Municipal Election Certification - Measure D
2010 General Municipal Election Certification
2009 General Municipal Election Certification - Measure T
2008 General Municipal Election Certification
2006 General Municipal Election Certification